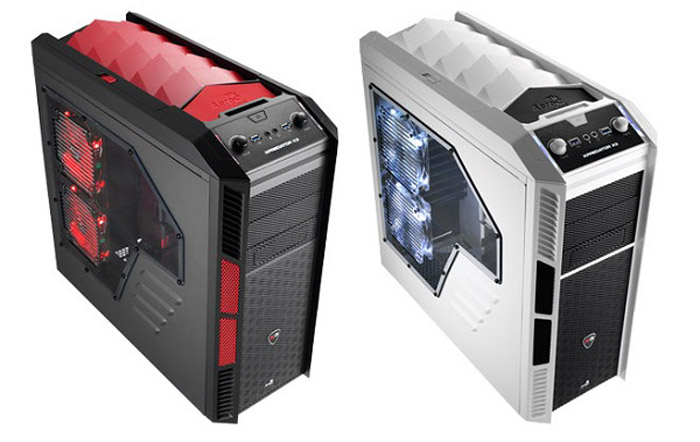 The Taiwanese maker of PC cases and various other PC peripherals Aerocool Advanced Technologies has started sales of the new Xpredator X3 PC gaming cases. The new products feature a new original design, bright colors and high quality steel – all in one High Mid Tower PC chassis.
The new cases support ITX, ATX and Micro ATX motherboards, up to three 5.25-inch devices, up to eight 3.5-inch and 2.5-inch storage devices, one external 3.5-inch device and one external 2.5-inch device. In addition the cases allow you to use a graphics card with an overall length of up to 310 mm and CPU coolers as high as 186 mm. The cases also come with two pre-installed cooling fans – one 120 mm rear and one 200 mm up front. If this is not enough the case can also take up to nine additional fans and in the back there are special holes for installing a liquid CPU cooling solution.
Two front USB 3.0 ports and two jacks for speakers and a microphone provide connectivity. The cases also come with an USB 2.0 to USB 3.0 adapter.
The Aerocool Xpredator X3 is available in black and orange, black and red and white. The cases sell for EUR 85.
Source: HWP.ru