AMD has officially announced the arrival of its new super high end video card, called Radeon R9 Fury X. The new graphics card packs the new Fiji GPU and offers stacked high bandwidth memory (HBM), significantly improved performance and better performance-per-watt compared to the previous generation. According to AMD the new Radeon R9 Fury X has enough power to allow 5K gaming with no issues. The card offers a GPU with 8.9 billion transistors that make 4096 stream processors, 256 texture units and 128 ROPs at 1050 MHz. The card also packs 4 GB of HBM memory that runs at 500 MHz and offers a 4096-bit memory bus, which leads to memory bandwidth of 512 GB/sec. The new HBM memory is also 60 per cent faster than the current GDDR5 generation and needs three times less energy. In addition thanks to HBM, the Radeon R9 Fury X is surprisingly small since the PCB does not include space for memory chips that are now housed next to the GPU. The R9 Fury X supports DirectX 12, LiquidVR, Mantle, OpenGL 4.5 and Vulkan and offers 8.6 TFLOPS of single precision power at 1.5 times better energy efficiency when compared to its predecessors. The R9 Fury X features liquid cooling as well and will be on the market on June 24 for a price of USD 649.
The Radeon R9 Fury X has not come alone – along with it AMD announced the slower but still super high end Radeon R9 Fury – the card also features a Fiji GPU and HBM memory but comes with 3584 stream processors and 56 ROPs and gets cooled by a standard air cooler. The Radeon R9 Fury packs 4 GB of HBM memory at 500 MHz and has the same 4096-bit bus, which means the GPU gets 512 GB/sec of memory bandwidth. The card will be on the market on July 14 and will sell for USD 549.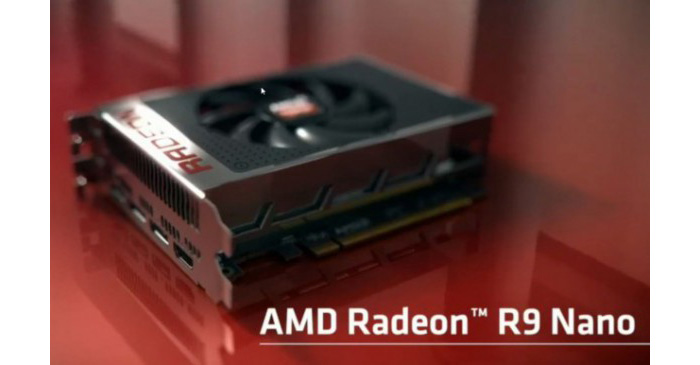 Perhaps the most interesting new AMD video card offer is the Radeon R9 Nano, which is a Fiji-based HBM-enabled video card with very small dimensions. There's little information on this one but we know that the Radeon R9 Nano will feature 2 times better performance-per-watt performance over the Radeon R9 290 and will be as fast if not faster than the GeForce GTX 970.
The Radeon R9 Nano will be on the market this summer. The price of the new card is unknown as of now.
Source: AMD