Although AMD is not doing really well on the CPU market lately the company has listed its plans for up to year 2020 and they reveal rather interesting information. One thing is for sure – AMD does not plan to quit the x86 CPU market, which is good news for consumers and AMD fans.
In a few words AMD plans to present and later release its upcoming major processor architectures codenamed Zen (x86) and K12 (ARM). The new chips will be built on 14 nm FinFET technology, which is definitely a step in the right direction. AMD also said that that the clustered chip architecture, used in the current FX processors would go into history; moreover the new architectures will be able to execute more threads at once than ever before. Finally AMD has stated its intention to update the GPUs in its APU chips once per two years, while discrete Radeon graphics card will be updated more often than this.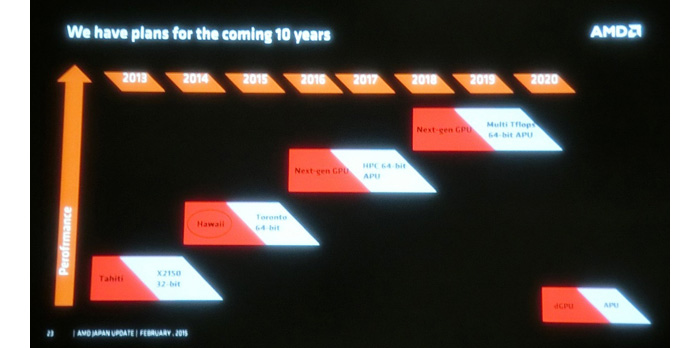 In year 2017 AMD plans to introduce a new APU designed for supercomputers that will use second generation HBM memory that will be nine times faster than the current and most popular GDDR5 memory. These APUs will come with TDP of 200-300W so this is the price to pay for having an ultra fast processor. More information on these topics is expected later this year when AMD publishes its financial papers, an event expected in May of this year.
Well, AMD's plans do sound interesting, don't you think?
Source: AMD