AMD has launched a new FirePro member – the W600 – which is capable of driving up to 6 4K monitors from a single PCI-E slot.
The novelty is a strictly professional card and targets professionals working with a number of monitors. Based on six mini-DisplayPort 1.2 outputs the card also includes a multi-stream transport hub (MST hub) that can forego 4K output for 4 separate 1080p displays.
In case you don't use any hubs and simply have one display per output you can send independent audio streams to each of the six displays. Each of the 4K monitors can be fed different audio all from the same PC and the same card.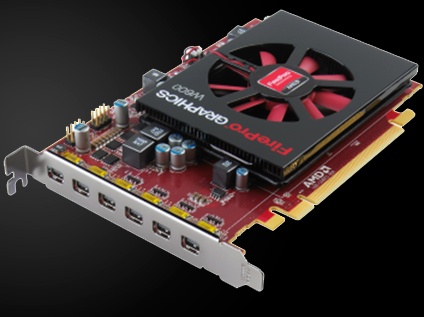 Inside the card is based on a 28 nm GCN chip that packs 512 stream processors (not confirmed though). Memory is 2 GB accessed via a 128-bit bus but unfortunately the core and memory clock speeds are unknown.
Purchasers of the new AMD FirePro W600 will also receive PowerTune and ZeroCore features – introduced in the Radeon line in order to reduce power consumption. ZeroCore for example is capable of reducing the card power consumption by up to 95% when the rest of the PC is idle.
The FirePro W600 is available now for 599 USD MSRP.

Source: Anandtech