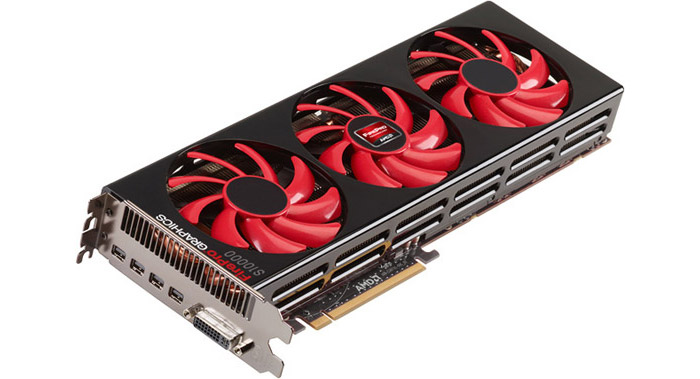 The launch of the dual-GPU AMD Radeon HD 7990 graphics card will take place in two days and most AMD partners already have such cards in stock, which means that they know all the hardware specs of the newcomer.
Perhaps on accident an AMD partner based in Japan has revealed the clock speeds of the card ahead of time. In any case this is great news for hardware fans so here's what to expect – the HD 7990 will come with two Tahiti GPU cores with each of them featuring 2048 stream processors, 128 TMUs, 32 ROPs, a 384-bit memory interface and a total of 6 GB of on-board GDDR5 memory (3 GB per GPU).
As to clock speed AMD will make the GPUs run at 1000 MHz, which is a bit lower than the 1050 MHz GPU in the HD 7970 but given the overall TDP this may not be so bad because it will lower the power draw. The memory on the other hand will run at 6000 MHz and will provide 576 GB/sec of memory bandwidth.
In an attempt to push sales AMD has released in-house performance results of the HD 7990 against the NVIDIA GeForce GTX 690 and GTX TITAN – in 3DMark Fire Strike the HD 7990 scores 16 per cent better than the GTX 690 and 29 per cent higher than the GTX TITAN. In the extreme preset mode of the test the HD 7990 scores 15 per cent higher than the GTX 690 and 31 per cent better than the GTX TITAN.
The AMD Radeon HD 7990 is expected to retail for USD 1000. The card will be launched on April 24 this year.
Source: Techpowerup.com