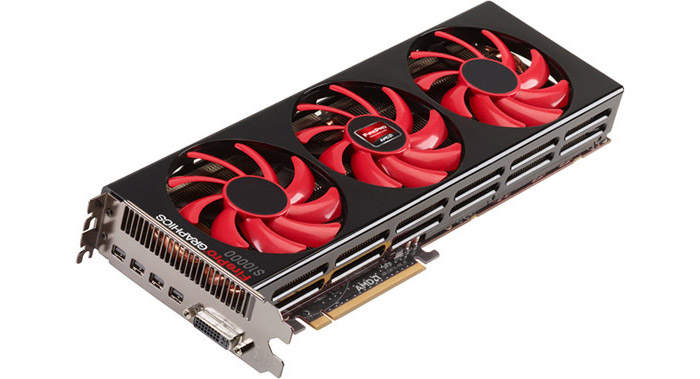 Advanced Micro Devices has officially unveiled the long-rumored dual-GPU Radeon HD 7990 graphics card, also known as Malta.
The card has been in the news for so long that the tech specs will not be a surprise but here's a quick list – two Tahiti cores taken straight out of the Radeon HD 7970 GHz Edition video cards. Thus the GPUs offer a total of 4096 stream processors, 256 texture units and 64 ROPs. The chips operate at 1000 MHz (1050 MHz in Turbo Mode) and share 6 GB of GDDR5 memory that runs at 6000 MHz and provides 576 GB/sec of memory bandwidth over a 384-bit bus.
Judging from the first AMD tests and preliminary reviews the Radeon HD 7990 is the world's fastest graphics card as of today. It not only offers fantastic performance but also low noise as AMD boasts just 37.8 dBA of noise while the card operates. To make the picture even better the HD 7990 offers support for UltraHD resolution – which means 4K gaming is at hand!
As previously reported the AMD Radeon HD 7990 sells for USD 1000 but the first commercial quantities will hit stores only in May 2013.
Source: AMD