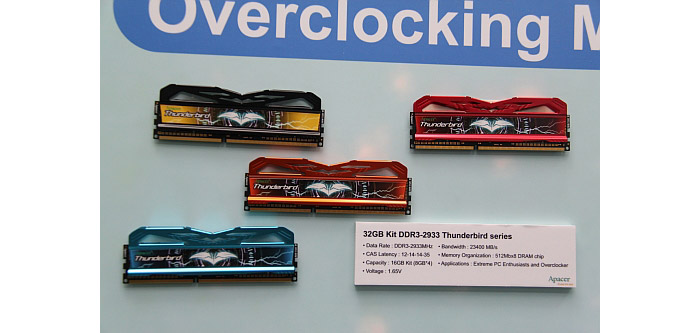 Apacer has announced a new memory line that goes by the name of Thunderbird. The new line offers DDR3 memory technology as expected and targets overclockers and hardware enthusiasts.
The Thunderbird line makes use of 8-layer PCBs with excellent quality and sports aluminum thunderbird wing-shaped heat spreading modules colored in blue, red, black and orange colors.
"Overclocking players very much emphasize efficiency and overclocking stability, while pursuing an exceptional appearance of overclocking system. The Thunderbird overclocking memory boasts the advanced overclocking technology of Apacer and ingeniously integrates the image of legendary thunderbird into the module design, making breakthrough in the field of overclocking memory to satisfy requirements of players," David Lin, Senior Manager of Apacer's PC Application Product Division indicated.
The Apacer Thunderbird line has been optimized for the Intel Haswell processor and the Z87 chipset and runs at 1600/2133/2400/2667/2800/2933 MHz. The memory is available in memory modules with capacities of 4 GB and 8 GB and kits with capacities of 8 GB and 16 GB.
Apacer has said nothing on the pricing, though.

Source: Apacer