The GeForce GTX Titan X is one of the finest and fastest video cards users can purchase nowadays. It offers both looks and performance thanks to excellent hardware inside – a NVIDIA Maxwell GM200 GPU that packs 3072 CUDA cores, 192 texture units and 96 ROPs as well as 12 GB of fast GDDR5 memory at 7000 MHz. All these tech specs mean unparalleled performance but even then certain people will ask for more performance from the card, which means they will need to overclock it. The downside is extra heat and a chance of a breakdown but everything has its price.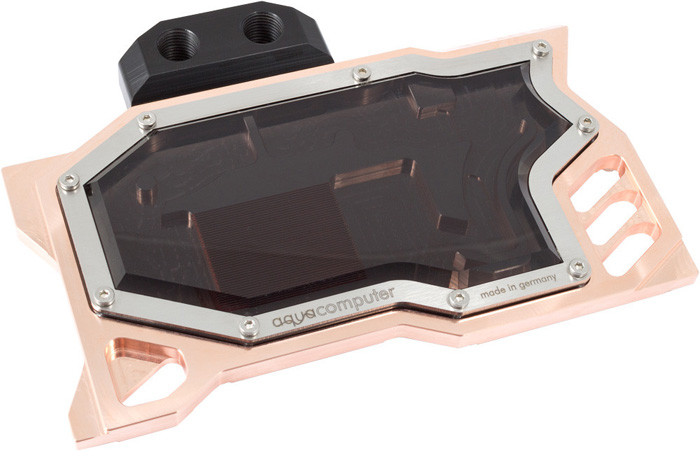 Fortunately a German company known as Aqua Computer has released a number of water blocks for owners of GTX Titan X cards that wish to overclock them. The blocks come with high quality as expected and feature a 10 mm thick high-purity electrolytic copper block that is made in Germany. In addition the GPU area of the block comes with a micro structure with a 0.5 mm grid and the block itself covers the GPU, RAM and voltage regulators for more protection and better overclocking results. The contact surface of the base is polished to high gloss and the kryographics allows users to implement thermal grease instead of thermal pads for the RAM chips. In addition to ease the installation process the block comes with preassembled distance pieces so the screws can be tightened as far as they will go to achieve an optimal contact pressure. The block can be used with regular G1/4″ fittings and the connection terminal offers threads into both directions. The regular connection terminal can be also exchanged with the optional kryoconnect adapters which can be used for SLI setups. The versatility of the new GeForce GTX Titan X water blocks does not end here – users can get versions of them with nickel bases instead of copper ones and versions with acrylic covers and more.
The new water blocks are available now for a price that sits between EUR 94.90 and EUR 114.89, depending on the version chosen.
Source: Aqua Computer