ASRock has always been a company that offers unique features with its motherboards and maybe this is where the success of this little Taiwanese motherboard maker comes from. The list is long but it has just gotten longer with ASRock finding a new way to overclock the memory installed on certain Skylake motherboards – something that has not been possible until now.
As you probably know the Intel Q170, H170, B150 and H110 chipsets, all designed for and used in LGA 1151/Skylake systems do not allow memory speeds that go above 2133 MHz despite the overclocking potential of both memory and processor. Thanks to engineers working for ASRock this problem has been solved – they have found a way to increase the working speed of the installed DDR4 memory on such boards to 2400 MHz, 2667 MHz and even 2800 MHz. This will lead to performance improvements that reach 5 per cent or even more.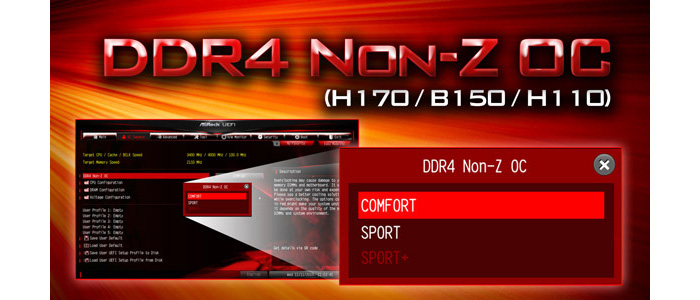 The new memory overclocking function is called DDR4 Non-Z OC but there are no details on how it works. Unfortunately there are some requirements before you can enjoy higher memory speed on your Skylake system – you must use memory made by Kingston or Samsung and of course utilize an ASRock motherboard. The first mode is called Comfort where the memory runs at 2400 MHz, while the Sport and Sport+ modes run the memory installed at 2667 MHz and 2800 MHz, respectively. Here's a list of motherboards that support the new DDR4 Non-Z OC function:

In order to enjoy this new feature you must first update your BIOS. Of course you can find the latest BIOS for your motherboard on ASRock's web site.
Source: ASRock