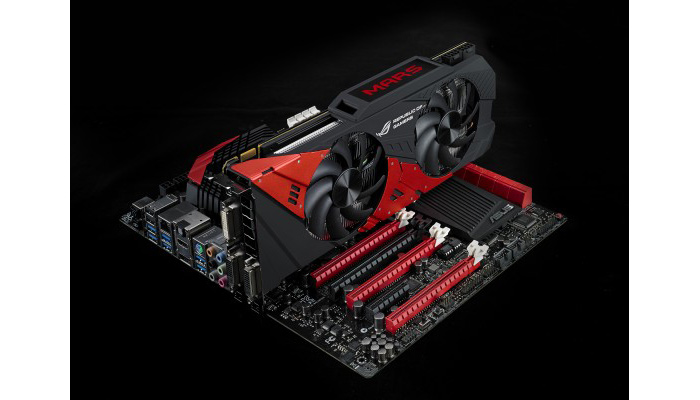 The upcoming ASUS MARS 760 graphics card was first rumored just a few days ago but it appears now that it has been long in the works with ASUS officially presenting the new graphics card during a special event. Good job, ASUS, on keeping low about the upcoming device!
Anyway most of the rumors held true – the MARS 760 comes with two GK104-225-A2 graphics processing units with each one of them featuring 1152 CUDA cores and a total of 4 GB of GDDR5 memory with each chip having 2 GB for itself. The cores are connected through the PLX PEX8747 chip and there's also a Digi+ power subsystem. As to working frequencies here's how they look like – the GPUs run at 1006 MHz (1072 MHz in Turbo mode), while the memory gets served by a 256-bit memory bus per chip and works at 6004 MHz. Two 85 mm fans cool the entire device that has four copper heat pipes and two aluminum heat sinks. The card also has two DVI-I connectors, one DVI-D port and one Mini DisplayPort port.
The pricing of the MARS 760 has not been officially unveiled, yet what is known is that the card will sell for GBP 520 in Great Britain so expect a similar price no matter where you live.
Source: ASUS