The ROG MATRIX 5870 isn't just the new kid on the block, it's the freshly appointed king, bestowed with everything serious gamers could possibly wish for.
Based on the ATI Radeon 5870 reference, MATRIX 5870 exceeds the standard design in every way, delivering both raw horsepower for fast, precision gaming, and refined controls that lead the way in overclocking and tuning.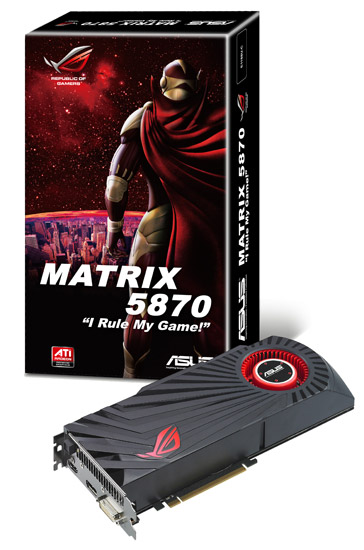 Be the Ruler of Thy Game
The new MATRIX 5870 lays down the law with prodigious computing muscle. It has 2GB of GDDR5 RAM running at 4.8GHz, true 256-bit interface, and 894MHz core clock. But these are just the preliminaries – where the MATRIX 5870 shines, like all ASUS ROG cards, is the extra features and attention to detail.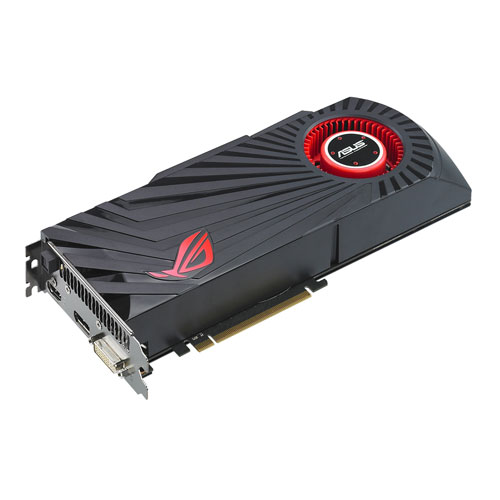 On the path to gaming bliss, optimizing resources is pivotal, since power alone can go to waste. This is where the Super Hybrid Engine (SHE) comes in, harnessing all that goodness towards better gaming. It tracks the strain put on hardware to deliver optimum power when needed, switching between intense action and normal operations automatically. The results are an average 19% boost in extreme heavy-duty first person shooter titles set to max detail and a tremendous 54% reduction in GPU power noise when doing regular 2D graphics, all with no interruption to users.
Getting on the Superlative Track
Overclocking aficionados crave the minutiae of performance, and MATRIX 5870 accommodates this with the included iTracker2 engine, a hardware-software bridge that opens up numerous avenues for accurate tuning.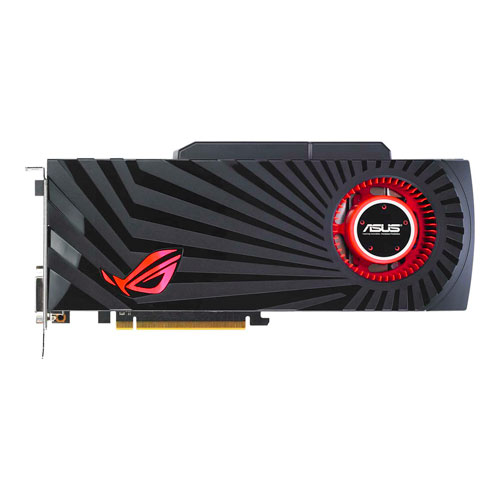 Users can overclock GPU RAM safely with exclusive memory timing adjustment and no worries about crashes—iTracker2 measures tolerances in real time and goes back to safe levels if the card is pushed too far. And while the information revealed by iTracker2 is extensive, users can opt for one of five preset overclocking profiles for fast and easy performance gains—experimentation is half the fun.
The other half is sitting back and reveling in newly-unleashed power as games run faster and more furious. Here, too, iTracker2 indulges, affording constant monitoring of GPU performance so every change made can be assessed and learned from.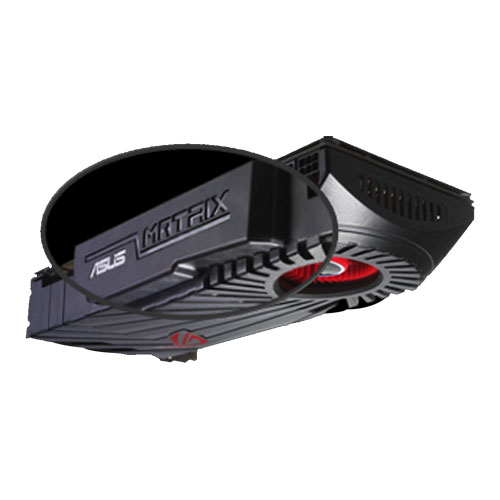 Hot Action Keeps a Cool Head
Sounds like the MATRIX 5870 is fixing to fly off the grid, but its thermal design keeps that eruption from ever transpiring. First, it features a custom fan-heatsink combo delivering 22% higher air pressure than required in reference. Then there are the usual quality materials used in every ROG graphics card, with their trademark heat dissipating properties showing the way for hassle-free overclocking. The MATRIX 5870 runs at least 13% cooler than reference, and that's just for starters. It'll be a cold day in hardcore-land before this one gives in to high temps.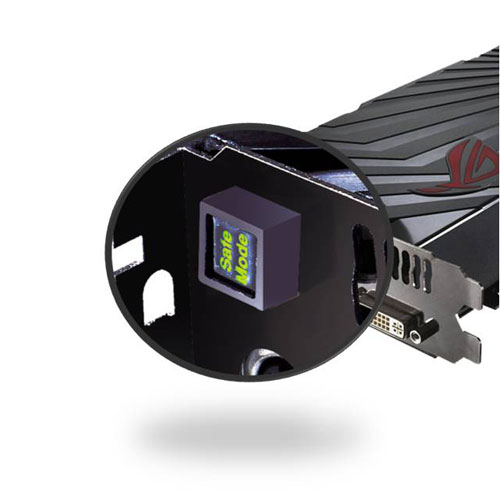 It's Always On
Obsessive gamers and overclockers have even more to look forward to with the latest rendition of ProbeIt, an ASUS innovation that lets users get nice and intimate with their favorite piece of gaming hardware. ProbeIt uses points on the graphics card itself that, when accessed using a multimeter, give instant voltage measurements for the GPU core, PCI-E bus, board and memory. The upshot for dedicated tweakers is obvious—checks whether overvolting experiments are taking effect, and compare figures reported by software to actual readings from the hardware. It never stops for true gearheads—nor do we want it to.
Specifications
Graphics Engine
ATI Radeon HD 5870
Bus Standard
PCI Express 2.1
Video Memory
GDDR5 2G
Engine Clock
894 MHz
Memory Clock
4800 MHz ( 1200 MHz DDR5 )
RAMDAC
400MHz
Memory Interface
256-bit
D-Sub Max Resolution
2048 x 1536
DVI Max Resolution
2560 x 1600
D-Sub Output
Yes x 1 (via DVI to D-Sub adaptor x 1 )
DVI Output
Yes x 2 (via HDMI to DVI adaptor x 1 )
HDMI Output
Yes x 1
DisplayPort
Yes
HDCP Support
Yes
Adapter/Cable Bundled
1 x CrossFire cable
1 x Power cable
1 x HDMI to DVI adaptor
Software Bundled
ASUS Utilities & Driver
ASUS Features
Matrix Series
Note
Dimension 11.5″ x 5″
Source: Asus