The German company Be Quiet! has quietly introduced a new line of CPU coolers that belong to the Dark Rock family and will be known as Dark Rock 2 and Dark Rock Pro 2.
Be Quiet is a new entrant to the cooler market with its first cooling products launched in 2010 but the company is well known in Germany for its power supplies. Having received positive reviews for its first cooling solutions Be Quiet! now offers its second generation of CPU coolers.
Let's take a look at the newcomers. Just like the older generation the new coolers arrive in two models – one with a single tower and another with dual towers. Both models feature a brand new 135 millimeter SilentWings fan. Thanks to this Dark Rock 2 offers more cooling performance while still maintaining a very low noise level.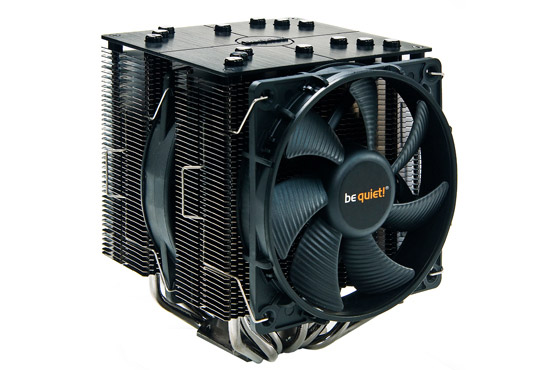 As you may already expect the Dark Rock 2 is the single tower offering but it still offers six 6 mm heatpipes that can cool processors with TDP of up to 180 watts. The position of the single 135 mm fan is adjustable for maximum compatibility with mainboards and RAM modules and it is barely audible at 21,2 dB.
"We were really pleased with the quick market acceptance of the original Dark Rock series, as evidenced that we have already been voted twice as the number two brand of CPU coolers by the readers of PC Games Hardware. With the launch of the Dark Rock 2 generation into the market we improved all essential aspects of performance. We're really proud of this achievement that pushes the state-of-the-art in quiet, high performance and reliable air cooling to new levels," says Scott Richards, Global Brand Director at Be Quiet! about the new product launch.
The Dark Rock Pro 2 is the flagship model in Be Quiet!'s cooling line. The cooler features two towers and this allows it to cool CPUs with TDP of up to 220 watts. Using two fans for air circulation, the Dark Rock Pro 2 comes with one 135 mm fan sitting in between its two big heatsinks and a second 120 mm fan in front of the heatsink. The seven heatpipes also make sure that there's no limitation to the usage of this cooler. The Dark Rock Pro 2 comes with just 26.4 dB of noise level.
The two CPU coolers also come with an improved mounting system that makes installation a breeze and supports all latest CPU sockets including Intel's socket LGA 2011. Available now the Dark Rock 2 costs 55 EUR while the senior Dark Rock Pro 2 model retails for 73 EUR.
Source: Kaldata.com