The maker of various PC chassis BitFenix has announced the new Pandora ATX cases. As the name of the new chassis suggests this is the ATX version of the already launched Pandora case, which comes in a compact form factor. The new Pandora ATX cases offer the same style found in the Pandora but can house full-sized ATX motherboards and one 360 mm radiator, giving users more freedom and space.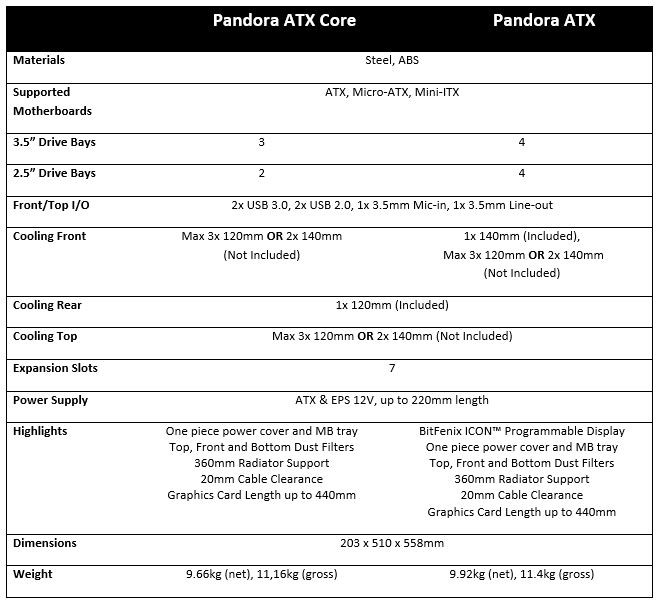 There are two Pandora ATX cases – the regular Pandora ATX and the so-called Pandora ATX Core. The two models share the same dimensions – 203 x 510 x 558 mm –but differ in the layout inside and the number of devices that they can support. The cases are made of ABS steel and support all ATX, Micro-ATX and Mini-ITX motherboards. They have two USB 3.0 ports, two USB 2.0 ports, one 3.5mm microphone-in port and one 3.5mm line-out connector as well as seven expansion slots and a single 120 exhaust fan in the rear. Both cases can accept up to three 120 mm fans or two 140 mm fans on top. This is where the differences start – the Pandora ATX Core supports three 3.5-inch devices and two 2.5-inch devices and can accept three 120 mm front fans or two 140 mm front fans (not included). The Pandora ATX is a bit more spacious inside – the chassis has four 3.5-inch drive bays and four 2.5-inch drive bays as well as a 140 mm cooling fan up front. The case can also take up to three 120 mm or two 140 mm front fans and has a 2.8-inch ICON LCD display in the front, which allows an added personalized touch of the front fascia. This is the reason why the weight of the cases differs – the Pandora ATX Core weighs 9.66 kg (net), while the Pandora ATX case weighs 9.92 kg (net). The cases can also accept video cards as long as 440 mm, PSUs that are up to 220 mm long and CPU coolers that are as high as 160 mm.
No word on pricing as of now.
Source: BitFenix