CoolerMaster has presented a new case at the ongoing CeBIT 2012 in Hannover, Germany.
The new Silencio 650 computer case comes with a list of attractive features and deserves the attention of anyone interested in computer cases.
To start off the Silencio 650 model doesn't have any padding at the rear of the case door. Instead CoolerMaster has swapped the plastic door for an aluminum one that also helps reduce noise. The door hides two 5.25-inch drive bays, a hot-swappable bay and an easily removable fan filter that hides two 120 mm fans.
The Silencio 650 case also features two separate drive cages of which one can be removed to allow for longer graphics cards. On the inside the new case has a typical CoolerMaster design with a 7+1 rear slot layout, a single rear 120 mm fan and a bottom mounted PSU.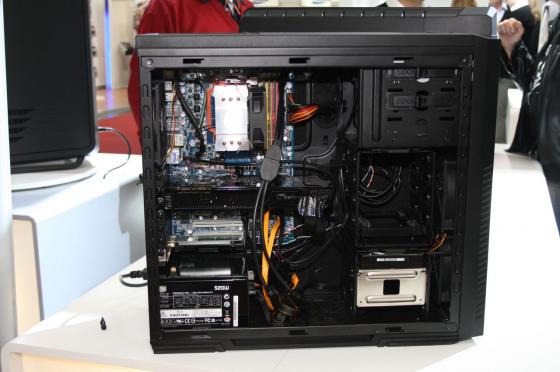 The top of the chassis however holds a mystery. When you take a look at it you will see a sliding cover, underneath which you can find two USB 2.0 and two USB 3.0 ports, a pair of audio jacks, a SD card slot and as expected the power and reset buttons. Nothing unusual so far but when you take a look just below the two USB 3.0 ports you will see two slides. The one on the left controls the fan speed while the one on the right holds the mystery. It turns out that the second slide is a boot drive selector that works via a hardware switch. Usually the boot drive sequence can only be changed by going into BIOS but CoolerMaster has provided a switch that is BIOS independent helping all those people who dual-boot and don't want to mess with the BIOS all the time.
The CoolerMaster Silencio 650 is quite a capable and nice computer case. The model shown at CeBIT however was an early release so the final product may differ a bit from the one here. Unfortunately there's no information on the market availability of the Silencio 650 and the price is also unknown.
Source: VR-Zone