The US-based Corsair company, a maker of high-performance memory, PSUs, cases, SSDs and peripherals, has announced its entry in the PC fan business with the release of a number of PC fans that enhance the case cooling of various PCs.
The new Corsair Air Series fan line includes airflow and static pressure models. Airflow fans are designed to intake cool air into, and exhaust hot air out of, modern PCs, while air static pressure fans are used in situations where air needs to be blown through a restricted space, making them ideal for cooling radiators and heatsinks.
As usual, Corsair has not skimped on the quality. All company fans come with hydraulic bearing and rubber mounts for low noise and reliability and users can choose between red, white and blue colors in order to customize their PCs in the best way possible.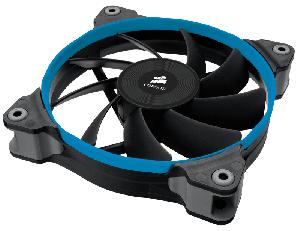 It is important to note that all fans range between 120 and 140 mm with only one model being 140 mm but due to its size it easily becomes the champion among all of them pumping 67.8 cubic feet of air per minute (CFM) at just 24 dB courtesy of its rotational speed of 1150 rpm. The other models' CFM lies between 38 and 63 cubic feet per minute while noise stays low between 21 and 30 dB.
The new Corsair fans will cost between 16.99 and 18.99 USD depending on model.
Source: Hardwaresecrets.com