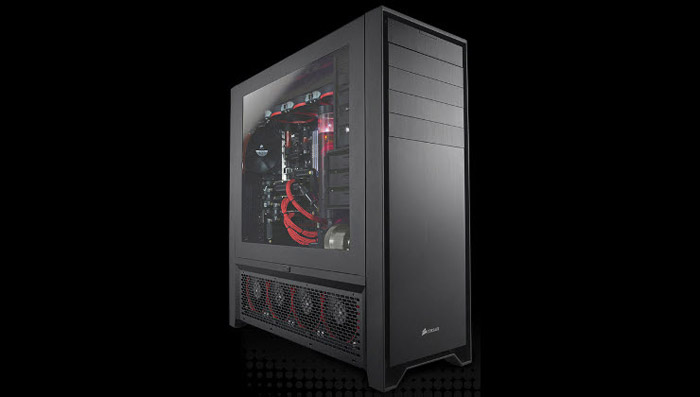 The famous hardware and memory maker Corsair has exhibited a new PC chassis that promises everything galore – please meet the Obsidian 900D.
The new computer case packs all the features even the most dedicated hardware enthusiasts would ever need. It is huge – but provides all the space needed for your beloved hardware. The Obsidian 900D has enough space for XL-ATX motherboards, four triple-slot graphics cards, nine hard drives or SSDs with three hot-swap mounts, dual power supplies, and finally four 5.25-inch drives. But if this is not enough for some reason you can expand your nine hard drives or SSDs to fifteen drives by adding additional drive cages (but these are available separately). Perhaps some of this magic is hidden in the fact the Corsair Obsidian 900D comes with no less than ten expansion slots.
Designed for powerful, heat-emitting hardware the Obsidian 900D also thinks of great cooling – the case provides a clear airflow path from the intake fans to the interior with no drives whatsoever in the way. Speaking of fans the chassis comes with three AF120L 120 mm front intake fans and one AF140L 140 mm rear exhaust fan. Users can add more if they wish to do so – the case provides a total of fifteen fan mount locations, five radiator mounting points and four removable dust filters.
The Corsair Obsidian 900D is built from high quality aluminum and steel and features solid steel side panels and all around painting that is scratch and fingerprint resistant. Finally it is tool-free as well.
Unfortunately the Obsidian 900D is still not available on the market but Corsair promises it will be in your local PC hardware store soon. You can sign up at Corsair's web site now to be notified immediately when the case becomes commercially available.
Source: Corsair