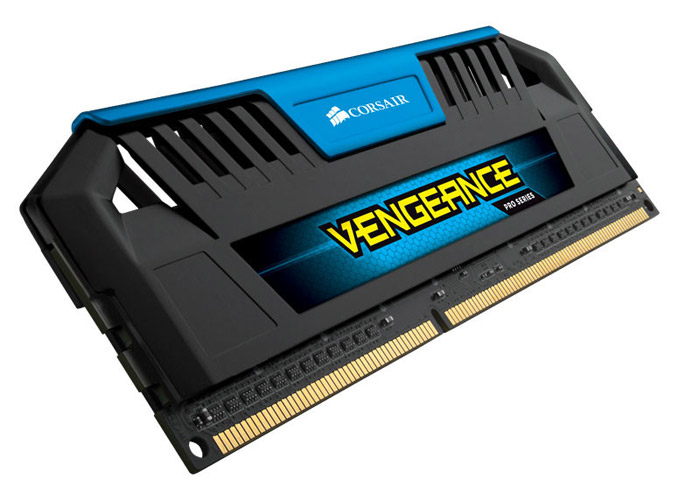 Corsair, one of the world's popular memory makers, has introduced an entirely new memory line under the Vengeance Pro product name. The new memory offers high clock speeds, advanced cooling systems, a remarkable look and perhaps most importantly a decent price.
Looking at the memory you will find out that the Vengeance Pro line comes in two memory modules – with 4 GB and 8 GB of capacity. Corsair also offers memory kits that include 8 GB, 16 GB, 32 GB and 64 GB of capacity. As to clock speed there's choice too – the memory is available at 1600 MHz, 1866 MHz, 2133 MHz, 2400 MHz, 2667 MHz, 2800 MHz, 2933 MHz and 3200 MHz with the fastest clock speeds requiring an Intel Haswell processor.
The Vengeance Pro line is attractive on the outside as well – the memory comes in aluminum heat spreaders in black color coupled with silver, red, blue or gold accents allowing enthusiasts to customize the look of their PCs. The new memory also supports XMP 1.3 profiles and is suitable for overclocking – for this purpose Corsair sells a specifically designed cooling fan for this type of memory.
The new Vengeance Pro memory line is available now but sadly pricing is missing. Still Corsair promised the Vengeance Pro would cost less than the Dominator series while offering almost the same performance.
Source: Corsair