Corsair, a worldwide leader in high-performance computer and flash memory products, today announced the launch of its new Dominator GTX ultra-high performance DDR3 memory modules for Intel® and AMD™ platforms, designed specifically for performance enthusiasts, gamers and extreme overclockers.
Corsair Dominator GTX modules are individually screened and tested on multiple high-performance Intel X58 and P55 chipset platforms to ensure that they operate at the incredible frequency of 2250MHz at low-latency timings of 8-8-8-24 at 1.65V. They are designed specifically for performance enthusiasts and overclockers who want to achieve the highest performance possible and to break benchmark world records.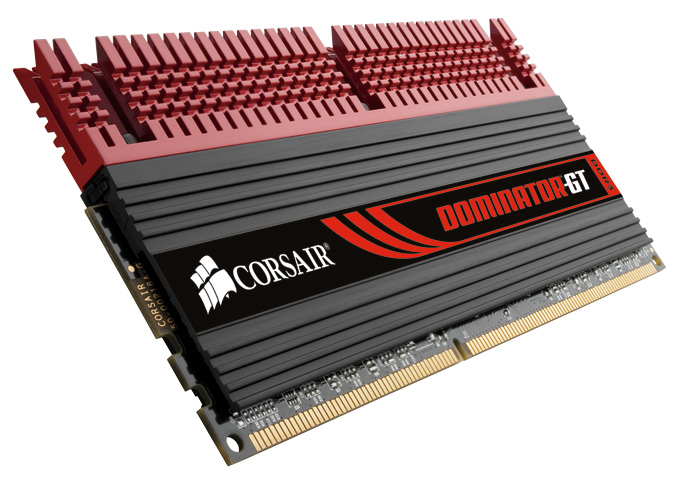 "Corsair has a long history of delivering the fastest overclocking memory on the planet, and our engineering expertise and unique understanding of the enthusiast market allows us to continue to push boundaries," said Kevin Conley, VP of Engineering at Corsair. "Corsair Dominator GTX modules are the most tightly-screened, highest-quality and fastest DDR3 memory modules in the world, and we look forward to seeing what the enthusiast and overclocking community can do with these exciting new products."
In addition to the incredible frequencies possible on Intel platforms, Dominator GTX modules have also been tested and verified to operate at up to 1800MHz CL6 in high-performance Socket AM3 motherboards for AMD Phenom™ II processors, providing AMD enthusiasts with a powerful new weapon in their overclocking arsenal. The following table shows baseline performance in a number of popular DDR3 platforms.
Dominator GTX modules use Corsair's unique DHX+ heatsink and are supplied with extra-tall cooling fins to maximize heat dissipation. The part number for this module is CMGTX2, and it is sold as a single module, allowing enthusiasts to purchase two modules for dual-channel configurations or three modules for triple-channel configurations. For the highest performance and frequency scaling, Corsair recommends using the GT Airflow fan with tall mounting brackets, which is also available from the Corsair Online Store (part number CMXAF2 GTL).
The CMGTX2 is screened by hand, in multiple passes, by Corsair's lab in Fremont, California, and availability will be extremely limited. It will be launched exclusively on the Corsair Online Store on December 8, 2009, at 9AM Pacific Time, and will be sold on a first come first served basis.
About DHX+ Technology
Corsair's innovative DHX+ technology uses specially designed, high-quality heatsinks and a custom-designed PCB that allows both the front and rear of the memory ICs, and the printed circuit board itself, to be cooled. DHX+ technology also allows for the cooling fins to be removed, allowing for a range of modular cooling accessories including extended heatsink fins, the Corsair Cooling™ Hydro Series H30 water cooling block and Corsair Cooling™ Ice Series T30 sub-ambient cooling subsystem, which cools the memory up to 20°C below room temperature for maximum overclocking performance. DHX and DHX+ designs are covered by US Patent number 7,606,034.
Source: Corsair