Cougar, a maker of various PC cases, has introduced the Volant gaming PC case, which targets enthusiasts and gamers in the first place.
Featuring a number of enhancements and useful options the new Cougar Volant PC case definitely bets on cooling – something overclockers will surely appreciate. The Volant case offers room for no less than 8 installable fans but to further improve ventilation and in-case airflow, the Cougar Volant also sports an advanced cable-management keeping the inside clean and neat. Liquid cooling has not been forgotten either – enthusiasts will find two holes in the backside of the chassis that provide access for water-cooling solutions and they are placed right where your CPU resides.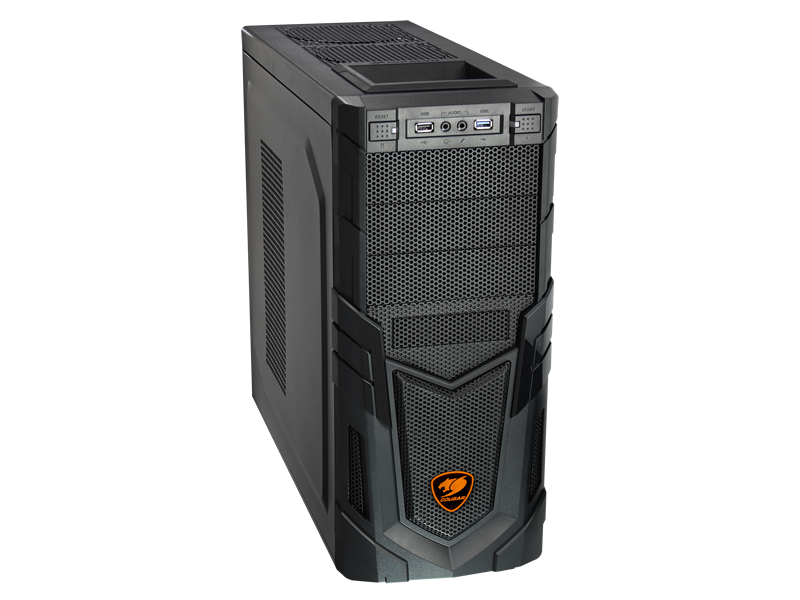 Up front you will also find out that the front panel allows for either 2 x 120 mm fans or one larger 140 mm fan for air intake in order to directly cool your installed drives. 1 x 120 mm installable fan at the bottom can directly cool down the bottom-placed PSU, while further 2 x 120 mm installable left side panel intake fans provide ideal airflow over graphics cards and other installed components. As the dissipating heat is going upwards in your case you are given the option of two 120 mm exhaust fans right in the top of the case that effectively blow out warm heat. The pre-installed 120 mm fan on the top rear end of the case can even further improve this.
On the inside you will find seven PCI-E slots that will allow you to assemble all kinds of SLI or CrossFire setups with graphics cards that are 320 mm long at most. Drive installation is a child's play with the Volant due to Cougar's screw-less design technology. Easy and convenient on-the-fly data access of 3.5" and 2.5" HDDs/SSDs is provided for by an integrated docking-station on top of the case. 1 x HD audio and 1 x HD microphone connectors right on top in the middle of the front panel provide for multimedia connectivity. Equally conveniently located are the USB connectors one to right and one to the left of these. Here Cougar has chosen to provide one USB 2.0 as well as one USB 3.0 SuperSpeed connector.
Finally the Cougar Volant arrives with rugged lines, metal mesh elements and glossy surface ornaments, which make the case distinguishable among many others.
Sadly, as it often happens, pricing and actual availability are unknown.

Source: Eteknix