The German producer of PC cases COUGAR has introduced a new gaming PC case. The new Challenger case targets gamers that seek huge upgradeability options, great airflow and optimised ventilation.
The first thing that you will see is the case color. The Challenger comes in black and orange to resemble the animal related to the name the German company carries. The color combination may seem strange but the colors look great and complement each other perfectly. Apart from the great colors COUGAR has prepared a new nice treat for every gamer located right on top of the case – when you want to power up your computer you have to lift a cover lid just like a pilot who's getting ready to fire a missile.
Inside the Challenger provides more than enough space for even the longest graphics cards. So rest assured you can install any video card that is up to 410 mm in length. This is achieved by a unique 3-Mode drive cage concept. In standard mode there is 300 mm of space, but by using a special HDD track mechanism you can relocate the drive cage to gain another 30 mm, and when removing it entirely you get the maximum of 410 mm.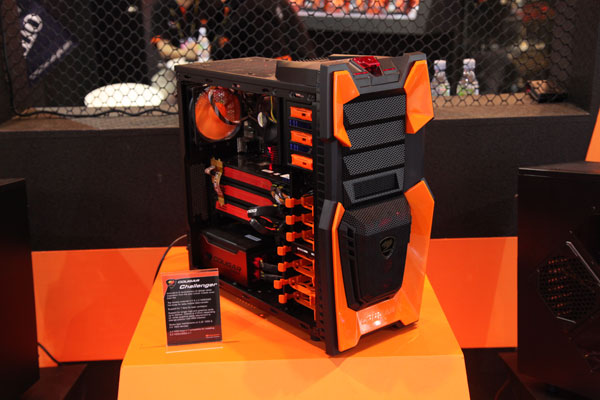 But how does the Challenger provide cooling? Apart from vented PCI-E slots in the back and the advanced ventilation options up front – something that COUGAR provides for all its cases – this time the Challenger comes with something new. As expected the case comes with dust filters but this time they are now attached on the outside with a magnetic mechanism, allowing for easiest assembly and disassembly. This way it is incredibly easy to take the dust filters off at any given time, without the need to open the case, and simply clean them under your water standpipe for a minute, dry them and put them back on. Deal done, and your ventilation has been re-optimised within minutes without any effort at all. A large 20 cm intake LED-fan in the front and a 12 cm rear Turbine exhaust fan come pre-installed and therefore provide for excellent ventilation characteristics right out of the box.
In addition the COUGAR Challenger makes it easier to install or un-install CPU coolers thanks to a huge cutout on the motherboard backplate. Then there's the new cable management that keeps cables away from the setup and tunnels them in a way so users can easily keep track of their hardwares' lifelines and change them conveniently at will. Finally the Challenger is fully prepared for all kinds of liquid cooling – three liquid cooling hose holes on the rear panel allow for a maximum of accessibility. By default, COUGAR implements rubber protection of these holes, so users don't need to worry about potentially sharp edges cutting into the hoses by un-careful handling.
Pricing, however, is unknown.

Source: Techpowerup