The popular CPU cooler Prolimatech Megahalems, which targets mainly overclockers, is now available in a colored version that not only captures attention but also perfectly fits colored motherboards, which are everywhere nowadays.
The new colored version is now available in light blue only. The color covers 88 fins out of 90 so don't expect to see blue everywhere but even then the heatsink looks really nice and complements really well blue motherboards made by Gigabyte and ASUS for example. Taking a peek at the specs – the Prolimatech Megahalems weighs 790 grams, measures 130 x 74 x 158.7 mm and includes a number of 0.5 mm thick fins, as well as six heat pipes and support for up to two 120 mm fans. The cooler is also compatible with all modern AMD and Intel CPU sockets.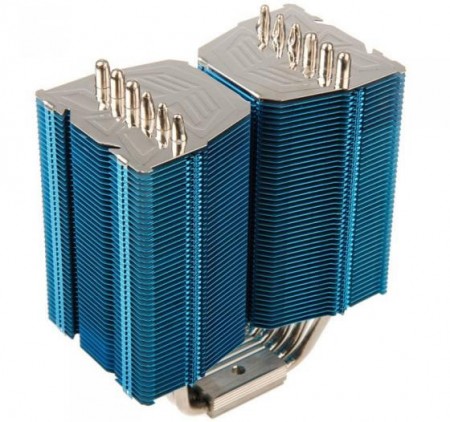 Unfortunately the new colored version will be a little more expensive than the original – it will sell for a little over 70 USD.
Source: WCCFtech.com