Due to the serious issue of global warming, in order to reduce carbon dioxide emissions, saving energy has become the responsibility of every global citizen. DFI is committed to developing energy saving products, not only to provide consumers a better platform, but also to do the best for the earth. Therefore, Hybrid platform was invented. Besides saving plenty of energy, Hybrid platform also brings consumers the benefits of time saving, space saving, and money saving. In addition, it is simple to use. Via a control panel, two systems can be easily switched and using condition can be known.
Hybrid platform, adopts the latest DFI patent technology. That is, a board combines a powerful platform of the current mainstream (P45 + ICH10R) and a green platform (NVIDIA ION). In other words, Hybrid has two platforms which operate completely independently. What is more, files can be shared between platforms. Through integrated hardware switch chips as well as network switch chips, Hybrid platform features a KVM and LAN switch on board. So Hybrid platform can be used with a monitor and keyboard/mouse, or with two sets of devices to work separately. This product will bring you the following four benefits: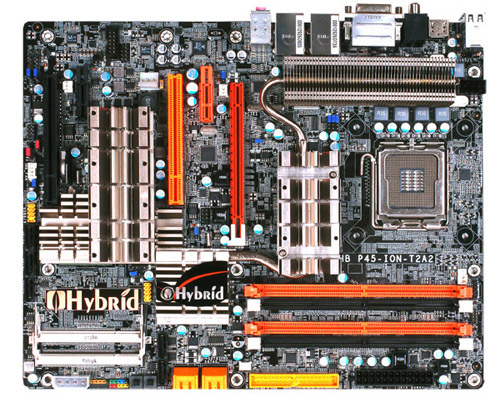 First, energy saving. More and more users need to turn on their computer for a long time; however at the same time they worry about high consumption of energy. While general energy-saving system can not satisfy users in terms of performance, DFI launches Hybrid platform to solve this problem. This platform can be turned on for 24 hours and will not result in high electric bills, but also renders high performance to meet users' requirements. According to test, more than 65% of energy can be saved by using Hybrid platform. Therefore, while you use Hybrid platform to save electricity, energy is less consumed and carbon dioxide is less emitted.
Second, money saving. Hybrid platform not only help you lower your electrical bills, but also save money from purchasing hardware. Do you have second computer needs? However, in order to own two computers, you need to purchase second set of related equipments. Hybrid platform is equipped with integrated hardware switch and LAN switch. With Hybrid platform, one set of devices can be used for both systems, and therefore the total cost of ownership will be decreased.
Third, space saving. Hybrid can help you save a lot of space. With built-in hardware switch chips and network switch chips, what you need is a monitor and keyboard/mouse to use Hybrid platform. And it will only take up space for one computer. Living in such limited space, you can utilize space well and obtain better living quality.
Fourth, time saving. Owing to Hybrid's multi-tasking, you do not have to wait anymore. Most consumers or professionals, such as ID designers, photographers, architects, and engineers, etc., have unpleasant waiting experience while processing some heavy loading jobs with their computers. Hybrid platform allows you to do a lot of things with your computer just by switching to the other platform without waiting.
While environmental consciousness is highly raised and people pay more attention to their living quality, the unique features of Hybrid dual independent platform will bring consumers better value and the most amazing using experience.
Source: DFI