The Taiwanese ECS, a maker of PC motherboards and other hardware, has unveiled a new family of motherboards that boasts the "NonStop" moniker.
The "NonStop" motherboards are made using only the highest quality components, ECS says, and therefore they can operate in non-stop mode without any problems, as the name suggests. ECS also claims that motherboards, which belong to the "NonStop" family feature improved stability and prolonged lifespan and are tested in regimes that are much more stricter when it comes to the usual industry standards.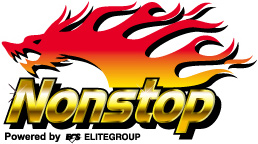 ECS NonStop mainboards utilize 100% solid Apache long-life capacitors, to protect users from capacitor leakage and failure problems. Another critical component of ECS NonStop is comprehensive electrostatic discharge (ESD) protection called "Thor". The 100% ESD protection on NonStop motherboards is achieved with special circuitry, consisting of dozens of extra components, that protects expensive and delicate chips, like the microprocessor, memory and other from static build up that can damage or destroy them without warning. According to ECS, Thor follows the toughest NASA guidelines for preventing ESD damage.
When being tested the motherboards also go through the Super Marathon 3X stability test, which checks and stresses critical motherboard components to make sure they meet and exceed ECS's standards. Once done with the Super Marathon 3X stability test the motherboards must survive the Sahara Severe Test where they operate at 50 degrees Celsius room temperature. Motherboards, which survive all tests carry the "NonStop" label.
Currently all ECS Black-series motherboards are "NonStop" certified while future Black series motherboards will also belong to the "NonStop" family.
Source: Hardwarezone.com