eMachines Mini-e ER1402, Small Sexy Desktop PC

The Acer's eMachines brand today intros a little sexy machine – Mini-e ER1402 mini PC. It is just 7.1 inches in diameter and weighing just 9 pounds, has a glossy black diamond shaped chassis "floats" in a matte silver pedestal, while emitting a soft ambient green glow along the lower edge.
The "mini-e"is powered by AMD Athlon II NEO Processor, NVIDIA GeForce 9200 graphics and 2GB of memory, 160GB hard drive, has built-in 802.11 b/g/n wireless, four USB 2.0 ports, a multi card reader HDMI output and an S/PDIF port allows it to instantly connect to a big screen TV and  digitally connect to a home audio system. It also comes with included wireless keyboard and mouse and runs Microsoft Windows 7 Home Premium 64-bit all for $299.99.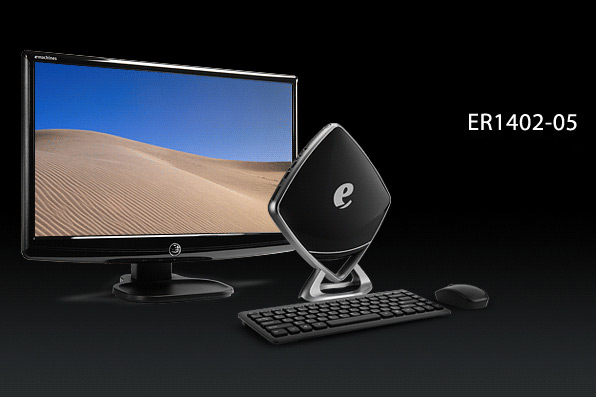 "Today's cost-conscious consumer will find style, features and affordability come together beautifully in the low-cost eMachines Mini-e," said Steve Smith, senior business manager, consumer desktops for eMachines. "It's an inconspicuous, streamlined computing solution for any room of the home where consumers want to enjoy movies, photos, music and other online entertainment."