The Japanese PC maker Fujitsu has prepared a new nettop computer that provides enough processing power to users who lack desktop space. The computer is called ESPRIMO Q956 and measures just 186 x 191 x 59 mm.

The device weighs 1600 grams and comes in a stylish black chassis only. The ESPRIMO Q956 is based on Intel Core i7-6700T, Core i5-6500T, Core i3-6100T or Pentium G4400T Skylake processors, installed in a Q170-based motherboard. The new Fujitsu computer can house up to 32 GB of DDR4 memory and there's enough space to install a 2.5-inch HDD or SSD with the M.2 or PCIe interfaces. The device comes with a thin DVD optical drive, 802.11ac Wi-Fi, Bluetooth 4.0, HDMI and DisplayPort connectors, four USB 3.0 ports, two USB 2.0 ports, Gigabit Ethernet, Realtek ALC671 sound, a SDHC card reader, 3.5 mm audio jacks and finally with a single DVI port and two DisplayPort connectors. The new computer can be used horizontally or vertically as well, adding a degree of flexibility.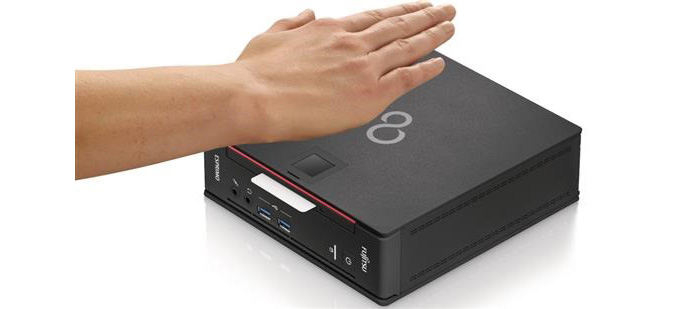 The ESPRIMO Q956 supports Windows 7, Windows 8.1 and Windows 10. The price of the computer is unknown as of now.
Source: Fujitsu