The Japanese Fujitsu company, once a maker of hard disk drives, has joined the SSD group with two solid state drives that will be sold under the Fujitsu brand.
The novelties do not belong to any product series and only a product number is available as of now – HLACC2031A-G1. The new SSDs will be available in East Asia and the Pacific Ocean region at first with possible appearance on other markets later on.
Both models come with a SandForce SF-2281 controller and have MLC NAND memory produced by Micron. Capacity is either 120 GB or 240 GB depending on model. Read speed is the same for both models – 550 MB/sec but write speed differs – the larger model comes with write speed of 520 MB/sec, while the 120 GB model features speed of 500 MB/sec. In addition the 120 GB Fujitsu model allows 40 000 IOPS, while the 240 GB model is faster at 55 000 IOPS.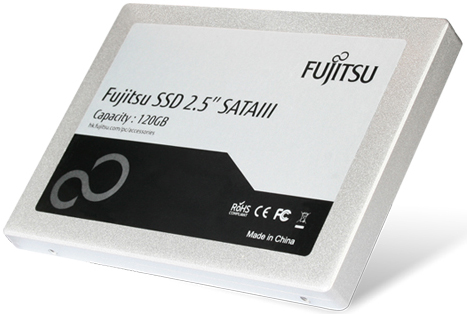 All data saved on these SSD is protected with the AES encrypting algorithm with 128-bit or 256-bit key width. Also supported are TRIM and SATA 3.0. MTBF is also the same for both models – 1 200 000 power on hours. The SSDs come with 3 years warranty and measure 100.2 х 69.85 х 9.5 mm.
The 120 GB model retails for 200 USD, while the 240 GB SSD costs 420 USD.
Source: VR Zone