G.Skill has announced two new DDR4 memory lines, designed specifically for the Intel Skylake processor, which arrives next week. The new memory lines carry the Trident Z and Ripjaws V brand names and apart from the cool names come with insane clock speeds.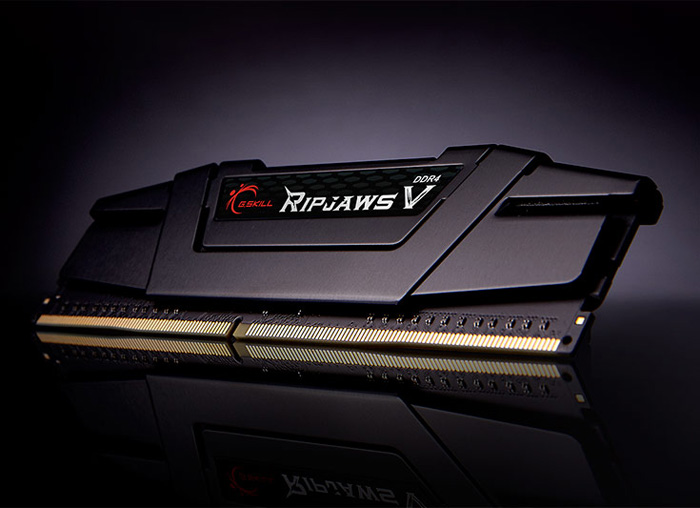 The new Trident Z DDR4 memory line succeeds the high-end Trident memory line and for the first time ever reaches 4000 MHz. The memory runs at this clock speed thanks to the used high-end Samsung IC memory chips and has been validated on the ASRock Z170 OC Formula motherboard. The Trident Z memory also has support for XMP 2.0 and comes with a single-piece design that allows direct heat dissipation from the heatspreader to the cooling fins and dual-color construction for the ultimate system builds. The Trident Z memory is also available at 3800 MHz but in both cases the memory comes as a single kit with a total capacity of 8 GB (2 x 4 GB). The voltage used differs though – the 3800 MHz Trident Z runs at 1.35V, while the 4000 MHz version of the same memory operates at 1.35V-1.45V.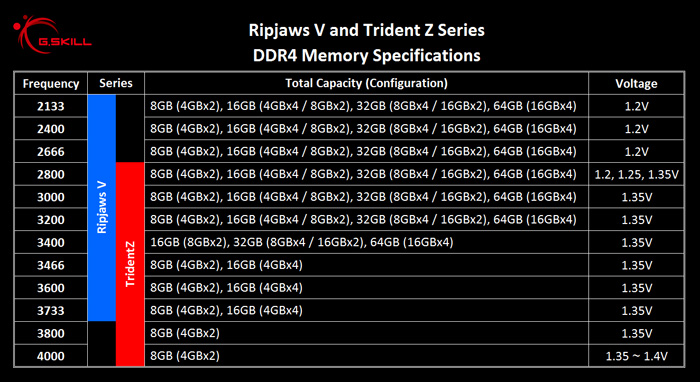 The Ripjaws V memory line sits below the high-end Trident Z and offers DDR4 memory that runs at 2133 MHz, 2400 MHz, 2666 MHz, 2800 MHz, 3000 MHz, 3200 MHz, 3400 MHz, 3466 MHz, 3600 MHz and 3733 MHz. Depending on the clock speed the voltage used ranges from 1.2V to 1.35V. This line offers capacities from 8 GB (2 x 4 GB) to 64 GB (4 x 16 GB). The memory uses high-quality Samsung chips and also supports XMP 2.0.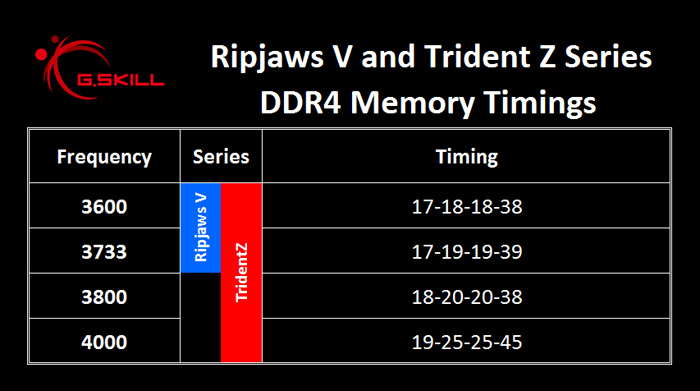 There's no word on pricing but given the quality and the high clock speeds the Ripjaws V and Trident Z memory lines will not be cheap.
Source: G.Skill