Have you ever felt like 2 GB of video memory is not enough? If yes, and you are not an AMD fan then Galaxy has a solution for you – a GeForce GTX 670 graphics card that sports 4 GB of GDDR5 memory.
The bad news is that this particular version of the GTX 670 is available in Japan only but if you really want it you can get it online. The Galaxy GTX 670 version with more memory will officially be known as GeForce GTX 670 GC Edition and apart from 4 GB of video RAM it also comes with an original cooling design, 5+2 power supply system and a combination of 6-pin and 8-pin PCI-E power connectors.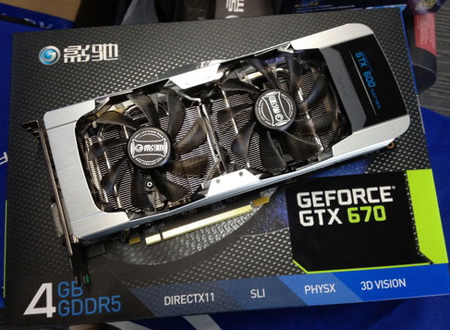 As to the cooling the video card has four 6 mm copper heatpipes, a big aluminum heatsink and two 92 mm fans. Not surprisingly the card supports all kinds of SLI and comes with DVI-I, DVI-D, HDMI and DisplayPort outputs.
Another plus of the Galaxy GeForce GTX 670 GC Edition is that despite the huge amount of VRAM it does not come with reduced GPU/Memory clock speed – the card offers 1006 MHz GPU clock speed that goes up to 1084 MHz in Turbo mode and 6008 MHz (effective) for the on-board GDDR5 memory.
In Japan the Galaxy GeForce GTX 670 GC Edition is expected to cost around 518 USD.

Source: Kaldata.com