Gigabyte has unveiled a unique wireless mouse that comes with a built-in touchpad. The novelty will be known as Aivia Xenon and sports a rather futuristic black chassis. Measuring 95 x 55 x 19 mm for a total weight of 68 grams the new company product is powered by two AAA batteries and can operate in two different modes.
The Gigabyte Aivia Xenon also comes with a USB interface, support for Gigabyte's own Free Scrolling technology, a laser 1000 dpi sensor and an operating range that reaches 10 meters.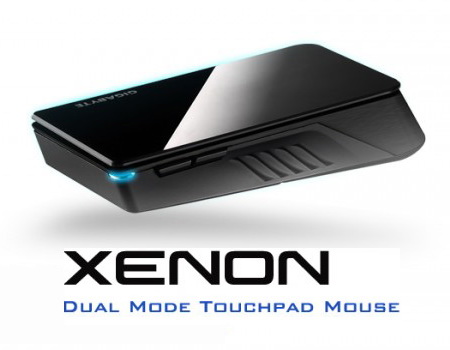 Additionally the Aivia Xenon has its own power button and a Mode key with its own color display, used for switching between mouse mode and touch control. The surface can also accept left and right clicks, horizontal and vertical scrolling, zooming gestures and finally sensitivity settings in dpi.
The Aivia Xenon comes with own software too. The Aivia Painter application will allow you to turn the mouse into a miniature graphics tablet where you can draw and write using fingers.
Pricing is unknown.
Source: Techshout.com