HP today introduced two energy-efficient, space-saving desktop PCs along with updates to its TouchSmart PC, including new Intel™ Core® processor options, an enhanced experience with Beats™ Audio and new touch applications from Corel® and Roxio.
The HP All-in-One200 features an ideal balance of form and function, offering consumers the performance of a traditional tower and monitor in one sleek, integrated design.
The HP Compaq 6005 Pro Ultra Slim desktop PC delivers business users energy efficiency, productivity and security in a small, sleek design.
"HP has expanded its portfolio with compelling desktop offerings for consumers and businesses who want great performance and design," said Anneliese Olson, director, Worldwide Product Marketing, Desktop PCs, HP. "These new offerings consume less energy and are proof of our commitment to reducing waste in the design, manufacturing, packaging and transportation of our products."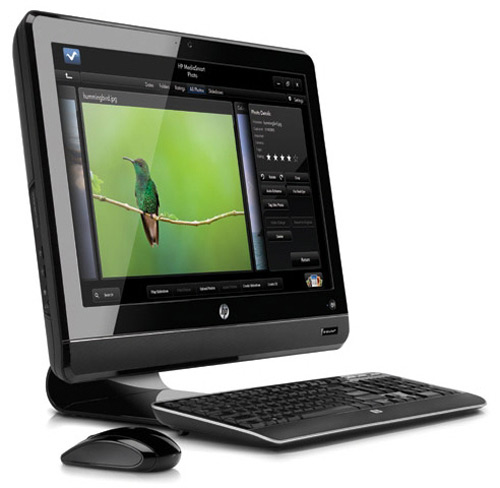 Desktop PCs never looked so good
The HP All-in-One200 consumer desktop PC offers the performance of a traditional desktop in a slim, stylish profile. The All-in-One200 is simple to set up and fits seamlessly in a kitchen, family room or bedroom. Its features include:
A 21.5-inch diagonal, 1,080-pixel, LED backlit, high-definition display(1) that tilts up to 30 degrees and swivels from side to side
An integrated webcam and built-in microphone
Built-in wireless LAN (802.11 b/g/n), enabling users to surf the web quickly and easily
Integrated premium stereo speakers
Optional wireless keyboard and mouse
SuperMulti DVD player with LightScribe technology
The HP MediaSmart software suite, which offers a fun and easy way to enjoy digital content – including watching TV or movies with Hulu and Netflix, sharing photos via Snapfish by HP, and burning music and videos to DVDs
The HP All-in-One200 is ENERGY STAR® qualified and meets the standards for Silver registration in the Electronic Products Environmental Assessment Tool (EPEAT®). It features a mercury-free, white light-emitting diodes (WLED) display that uses less energy than previous-generation displays. The display's solid-state components also are more resistant to damage caused by external shock. Additionally, in response to growing environmental concerns regarding the use of brominated flame retardants (BFRs) and polyvinyl chloride (PVC), the All-in-One200 is the first consumer desktop available with some BFR/PVC free components.
Enterprise-class performance with energy savings
The HP Compaq 6005 Pro Ultra Slim desktop (USDT) is an enterprise-grade performance PC designed with the environment in mind. Measuring 10 inches high and 2.6 inches wide, the approximate size of a ream of paper, the 6005 Pro USDT can be easily connected to the back of a display using the optional HP Integrated Work Center, promoting a clutter-free workspace.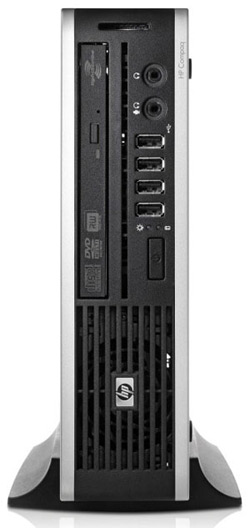 The sixth generation of HP business desktop PCs to feature AMD® processors, this slim and sleek PC features VISION Pro technology from AMD, delivering high-performance computing. Additionally it features tailored security software – including HP ProtectTools – and impressive energy-efficiency for enterprise business users on a budget.
The HP Compaq 6005 Pro USDT is designed for corporate enterprise, midmarket, government, healthcare and education customers that want a dependable, high-performance PC with energy-efficient features, enhanced graphic capabilities, flexibility and expandability, including:
Integrated ATI Radeon™ 4200 graphics and DirectX 10.1 for a stunning visual experience
Dual-monitor capability for easier multitasking
DDR3 memory technology for higher bandwidth
DASH 1.1 for expedited remote management tasks
Mini PCIe x1 slot so users can add a wireless card and stay connected
Ten USB ports to help businesses expand their capabilities
HP's second business PC and the first AMD PC in the industry to be BFR/PVC free,(6) the HP Compaq 6005 Pro USDT offers an 87 percent-efficient power supply, meets ENERGY STAR qualifications and EPEAT registration, and includes a range of preinstalled software tools such as HP Power Assistant(9) to help business users stay on track with energy savings and contribute to their company's short- and long-term environmental goals. The new integrated side port memory enhances energy savings by putting the CPU into deep sleep at idle.
HP TouchSmart – the next generation of amazing
The HP TouchSmart 600 – a 23-inch-diagonal widescreen, touch-enabled PC – now features new Intel Core i5 and i3 processor options, delivering the ultimate in smart performance.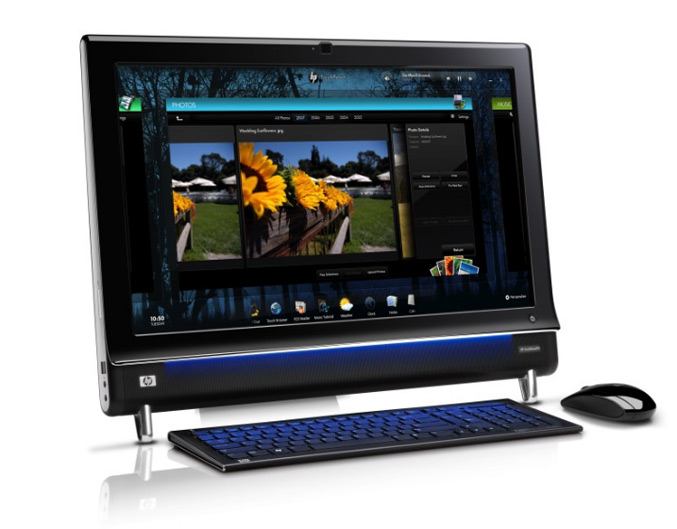 Engineered to reproduce the sound quality found in music studios, Beats Audio is now available on the HP TouchSmart 600. This unique, high-performance technology emerged from close collaboration between legendary artist and producer Dr. Dre, chairman of Interscope Geffen A&M Records and Beats co-founder Jimmy Lovine, and HP engineers. It provides an optimal sound experience – the way the artist intended it.
The HP TouchSmart 300 and 600 PC series also feature new built-for-touch applications, including Paint It! by Corel and Roxio CinemaNow. Paint It! Studio lets users get in touch with their inner artist, edit photos and create original designs. Paint It! digital art tools allow experimentation with color theory, composition and brush strokes, without the mess associated with traditional art.
Roxio CinemaNow lets users browse new releases with a touch of a finger, then watch them directly on the HP TouchSmart PC. Roxio CinemaNow has more than 12,000 movies to rent or buy.
Pricing and availability
The HP All-in-One200 desktop PC starts at $699 and is available today on www.hp.com.
The HP Compaq 6005 Pro Ultra Slim desktop starts at $599 and is expected to be available April 26.
The HP TouchSmart 600 with Intel Core i5 and i3 processors, Beats Audio, Paint It! by Corel and Roxio CinemaNow starts at $1,099 and is available with Intel Core i3 today and Intel Core i5 on April 28 on www.hp.com.
The HP TouchSmart 300 with Paint It! by Corel and Roxio CinemaNow starts at $799 and is available today on www.hp.com.
Source: HP