If you are looking for a new all-in-one PC that packs energy saving technologies and power while requiring less space you may have come to the right place. Here's something for you – HP's brand new Compaq Elite 8300 AIO.
Apart from the ad sounding introduction HP has really prepared a nice new AIO PC. The first thing that you will see is the large 23-inch HD display that expectedly works at 1920 x 1080 pixels. The display also features touch capability (although optional) and no matter what you choose you can put it into portrait or landscape mode, even when wall-mounted.
The 23-inch display hides powerful hardware too. Users can choose between fast Core i5 and Core i7 Ivy Bridge processors and for those with thinner wallets HP offers the Intel Core i3 processor albeit based on the older Sandy Bridge architecture with all versions featuring the Intel Q75 chipset. As to graphics you can choose among Intel HD 2000, HD 2500 or HD 4000 depending on the CPU you opt for. In case you are not satisfied with it there's also an option for business users to configure their system with a discrete MXM GPU.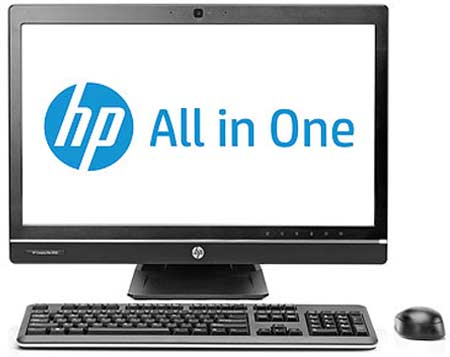 Memory-wise the Elite 8300 allows for up to 16 GB of SO-DIMM DDR3 memory. As to storage you can choose between a hard drive with maximum capacity of 1 TB and SSDs with capacities of 128 GB or 256 GB. Thanks to the built-in Intel Smart Response Technology, the 8300 can be booted up and shut down quickly.
On the outside the Compaq Elite 8300 offers four USB 3.0 ports – two on the side and two into the rear – and there are two USB 2.0 ports too. The computer can also be equipped with an optional Media Card reader (SD/SDHC/MMC/MS). Businesses that rely on virtual conferencing can also opt to configure their systems with a 2-megapixel web camera featuring a dual microphones array that purportedly delivers clear communication in most listening environments.
The latest AIO marvel by HP will be available in the US starting September 10 for a price of 929 USD (touch-enabled version) and 879 USD (non-touch configuration) and up depending on options.
Along with the Elite 8300 HP announced two new AIO models – the Compaq Pro 6300 and the Compaq Pro 4300. Targeting growing businesses the 6300 is essentially the same as the Elite 8300 but offers a smaller 21.5-inch HD display and no touch availability. The Compaq Pro 6300 will be available on September 3 for 799 USD and up.
The other newcomer – the Compaq Pro 4300 – targets small businesses and sports a 20-inch display with no touch options. Based on Intel's H61 chipset the Compaq Pro 4300 will be available for purchase on September 10 for 529 USD and up.
Source: PCMag