iBuyPower has unveiled a new gaming machine for enjoyment of the overclocker enthusiasts, called Erebus which comes equipped with a liquid cooling system, that iBuyPower claims is capable to dissipate up 3400W of heat.
The new gaming rig has steel chassis, designed to be strong enough to handle the additional weight of the liquid cooling parts, four powerful video cards and all additional components placed in the system – it can "support the weight of two baby elephants." The case features top tinted fins, designed to direct the noise and hot exhaust towards the rear of the case, has an aluminum front panel with USB 3.0 and e-SATA ports, as well as integrated card reader. The cooling system is equipped with high-flow 13mm tubing and a variable high 22.3 L/min pump with built-in speed control knob, and also can be backed by up to four radiators and ten 120mm fans.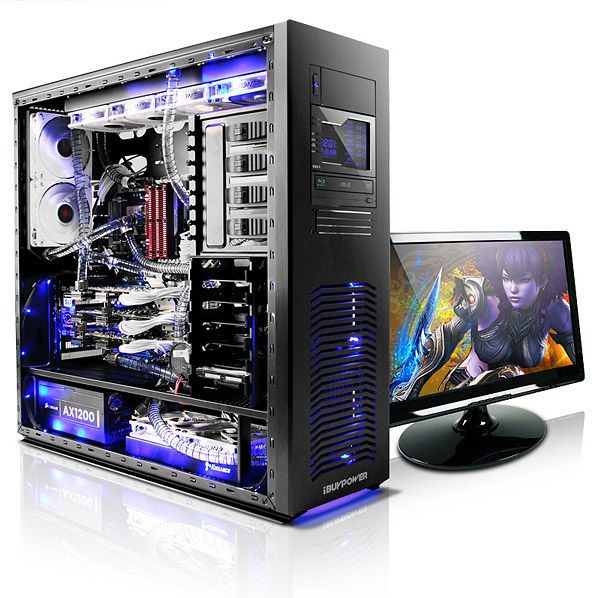 The iBuyPower Erebus is offered in six customizable systems – Erebus-E1, E2 and E3 powered by Intel Core i5 processors and Erebus-V1, V2 and V3 based on Intel Core i7 processors. All gaming beasts can be configured with wide range of storage options, RAM and powerful, high-end graphics cards.
The entry-level, Erebus-E1 starts at $1249 and includes Intel Core i5-2400 Processor, Gigabyte GA-P67A-UD3 Motherboard, NVIDIA GeForce GTX 550Ti 1GB, a 4 GB of DDR3-1600 Memory, a 500 GB SATA 6 Gb/s Hard Drive, 24X Double Layer DVD Drive and Windows 7 Home Premium 64-bit. But if you can afford $6899, you will get top 6x120mm Liquid Cooling system, Intel Core i7-990X Extreme processor, 12 GB DDR3-1600 Kingston HyperX memory, three NVIDIA GTX 580 Superclocked video cards in 3-Way SLI, 2X 96 GB Kingston SSD in RAID-, plus 2 TB SATA 6 Gb/s storage, 10X Blu-ray Re-Writer Combo Drive all powered by Windows 7 Ultimate 64-bit, plus Thermaltake Gaming KB & Mouse. Cheers!