Intel Corporation has announced the release date of the upcoming new Ivy Bridge processors.
The new Intel CPUs won't be a radical departure from the time tested Nehalem and Sandy Bridge architectures but they will still offer a number of improvements that will allow the new cores to run faster than ever. One significant improvement will be found in the production process – Ivy Bridge will arrive at 22 nanometers and will feature new tri-gate transistors that will operate faster and will require less power.
Intel will introduce the new Ivy Bridge architecture on April 8, 2012 or "around that day". 25 new processors will hit the market – 17 of which will target desktop computers and 8 will be used in mobile PCs. The popular "Core" monikers will continue to exist; instead the new chips will come with a "3xxx" number to indicate the newer CPU generation.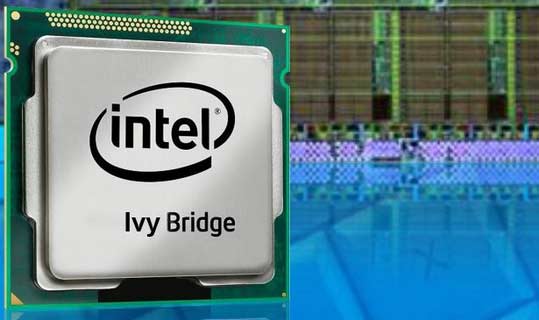 Not all desktop models have been revealed so far but it is known that the new Ivy Bridge CPUs will be quad-core based. Core i7-3770K, 3770, 3770S, 3770T and Core i5-3570, 3550 and 3450 will debut on April 8, 2012 with prices ranging from 184 to 332 USD. In May 2012 these models will be joined by Core i5-3470T that will cost 184 USD.
Mobile processors will come out in April 2012 and will be represented by Core i7-3920QM, 3820QM and 3720QM that will cost 1096, 568 and 378 USD accordingly. Later Intel will introduce mobile Core i5-3520M, 3360M and 3320M processors and Ivy Bridge chips designed for ultrabooks such as Core i7-3667U and Core i5-3427U.
This is not everything – Intel has prepared a new chipset line to go with the new CPUs. Although Ivy Bridge is backwards compatible with socket 1155 and current chipsets in April Intel will introduce new desktop chipsets – Z77 at 48 USD, H77 at 43 USD, Z75 at 40 USD and B75 at 37 USD. On May 13, 2012 they will be joined by Q77 at 44 USD and Q75 at 40 USD.
Mobile chipsets will be represented by HM77 (48 USD), UM77 (48 USD), HM76 (43 USD) and HM75 (40 USD). They will debut in April 2012.
Source: IXBT