At the on-going Intel Developer Forum (IDF) 2015 Intel has finally detailed the Skylake CPU microarchitecture, full two weeks after the first two flagships of the new CPU family were launched – the Core i5-6600K and Core i7-6700K.
Despite the minor performance gains that Skylake exhibits, the microarchitecture inside the two new chips has undergone numerous changes. We'll start with the CPU die – the new processor family comes with new Intel HD Graphics inside that now occupies almost half of the CPU die, which is a lot of area. The CPU cores have been moved as well – now they occupy two rows with each one of them featuring two cores. The L3 cache sits in the middle between all four cores. This is a departure from previous designs that placed all cores in a row with the L3 cache sitting underneath. Finally you have the memory controller and various I/O controllers.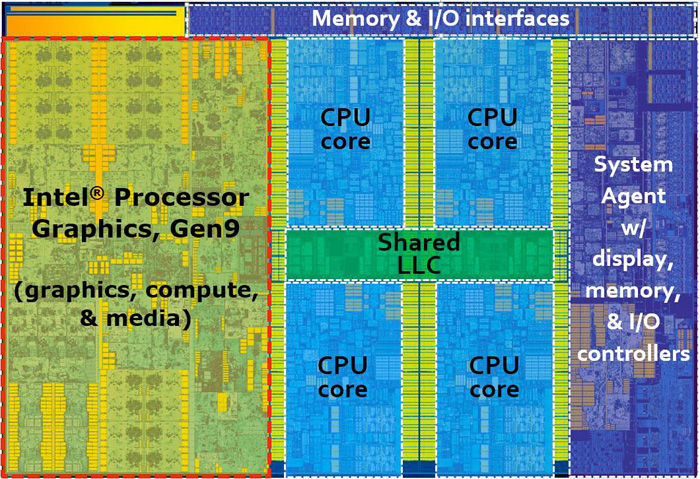 The changes in the new Skylake architecture are more interesting – the chip has been designed to be wider than Haswell and features a bigger front end with an improved branch prediction unit, better prefetch units, cache optimizations, an updated Hyper-Threading technology and much wider scheduling windows. The instruction window can now house 224 in-flight instructions (up from 192 in Haswell and 168 in Sandy Bridge/Ivy Bridge), while the load/store sizes have also been increased to 72/56 entries (up from 64/36 in Sandy Bridge). The instruction scheduler now houses 97 instructions (up from 60 in Haswell and 54 in Sandy Bridge/Ivy Bridge). The allocated queue size has also been enlarged to 64 entries per thread (vs 28 in Sandy Bridge/Ivy Bridge and 56 in Haswell). This allows the chip to extract more parallelism when running programs and to increase the IPC count, thus increasing performance.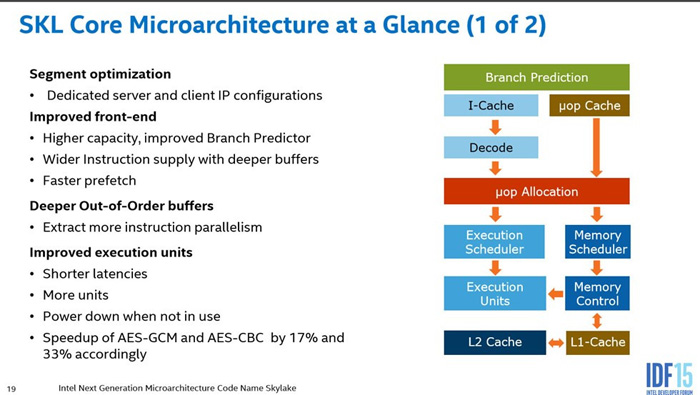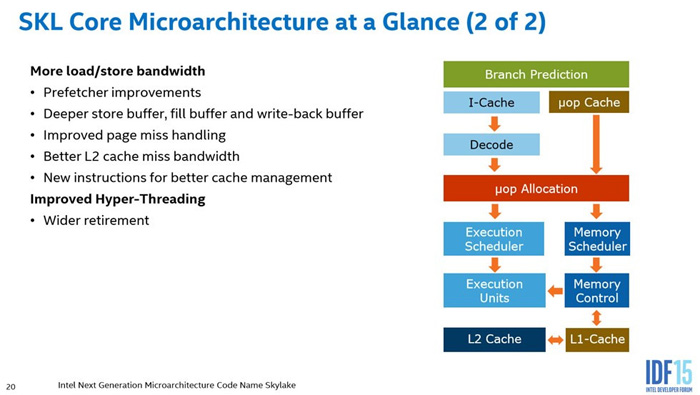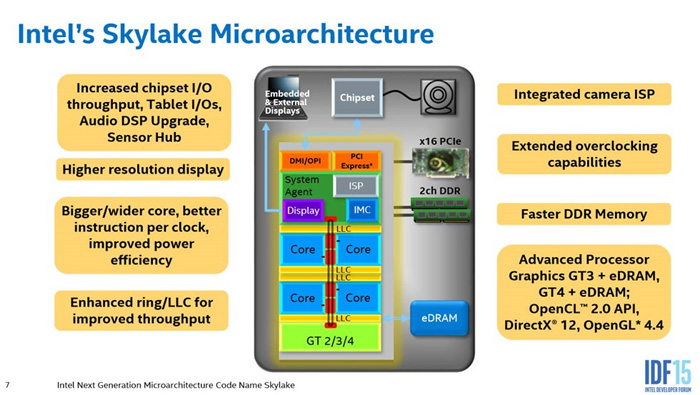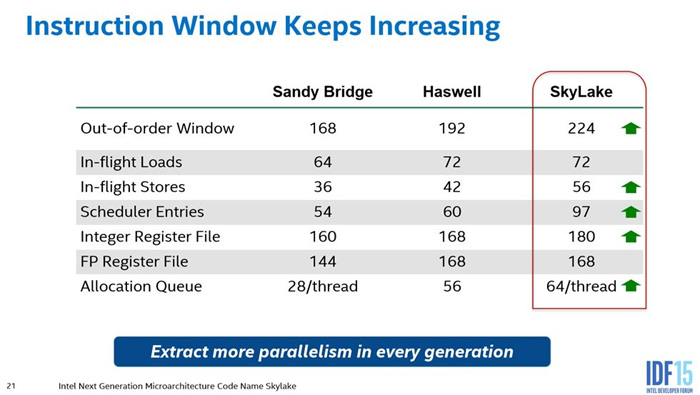 Intel will soon launch a wider range of Skylake chips that will occupy the mid-range and budget-oriented market segments. As of now there are just two Skylake chips on the market – the high-end enthusiast-oriented Core i5-6600K and Core i7-6700K.
Source: Hot Hardware