While AMD was talking about its future GPUs and CPUs, AMD's archrival Intel presented its new Haswell-EX processors. The chips belong to the well-known Xeon line and are featured in the Xeon E7-8800 v3 and Xeon E7-4800 v3 processor lines.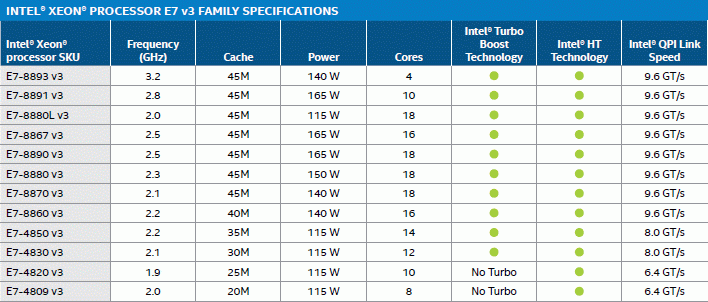 The Haswell-EX chips feature up to 18 processing cores, up to 45 MB of L3 cache and support for either DDR3-1333/1600 or DDR4-1866 memory depending on the model. Each chip offers 5.7 billion transistors on 22 nm tech process in a die that is 662 square millimeters big and each processor can have access to up to 24 memory slots that can house memory banks with capacities of up to 64 GB. Given there's a system with 8 Haswell-EX processors, the total amount of installed RAM memory can reach 12 TB.
The new processors fix several errata, including the TSX error, and support new instructions and technologies, related to data encoding. The new Xeon Haswell-EX line costs USD 1223-7174, depending on the model chosen.
Source: Intel