About 10 days ago we got the latest Intel CPU generation, codenamed Skylake. The new chip family brought the DDR4 memory standard to the mainstream PC market as well as new performance heights but we never found out what makes Skylake tick inside since Intel saved the architectural improvements in its new chip for the Intel Developer Forum (IDF) which starts later this month.
Little by little the secrets inside become public, however – the first improvement inside Skylake seems to be a rather interesting new technology, unofficially called Inverse Hyper-Threading. The idea behind it is very intriguing – in the past decade CPU manufacturers have increased performance by adding more and more processing cores as well as increasing cache sizes. The main problem with this approach is that performance is improved in multi-threaded scenarios, while single-core performance has not seen much improvement. This is where Inverse Hyper-Threading steps in – the new technology makes processing cores combine forces in order to process single-threaded programs faster.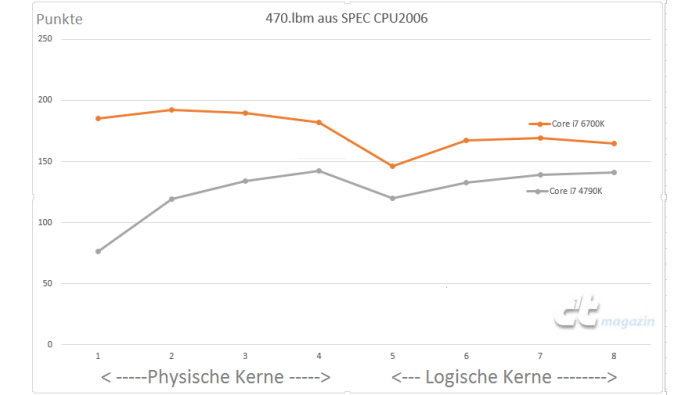 This can be best seen in the test picture provided by Heise.de where an Intel Core i7-6700K Skylake is compared to an Intel Core i7-4790K Haswell processor. The first thing that you can see is that when a single core is loaded (read single-threaded performance) Skylake scores much higher than Haswell. In addition when more and more of the cores inside the Haswell chips are loaded performance goes up, while in Skylake's case performance actually goes down. This is what Inverse Hyper-Threading does – it loads all cores in single-threaded programs and ensures a massive performance boost and when more cores get loaded performance goes down a little bit due to software inefficiencies.
Inverse Hyper-Threading does look promising and we should learn more at the upcoming IDF which will open in just a few days. In any case Skylake seems to be a promising chip. Who knows what else is hidden inside but there's more for sure!
Source: Wccftech.com