The JEDEC Solid State Technology Association, which manages memory standards, has published the specs of JESD232 Graphics Double Data Rate (GDDR5X) SGRAM. The specs are available now on JEDEC's web site so anyone can freely download them.
This act by JEDEC has shed light on the evolution of graphics card memory. We wrote on GDDR5X a while ago when there was another rumor we would soon see GDDR6 memory on the market, competing with GDDR5 and HBM 2.0 but as you can see this will not happen. Instead GDDR5X will power future mainstream and high-end video cards while providing even more performance for the end user.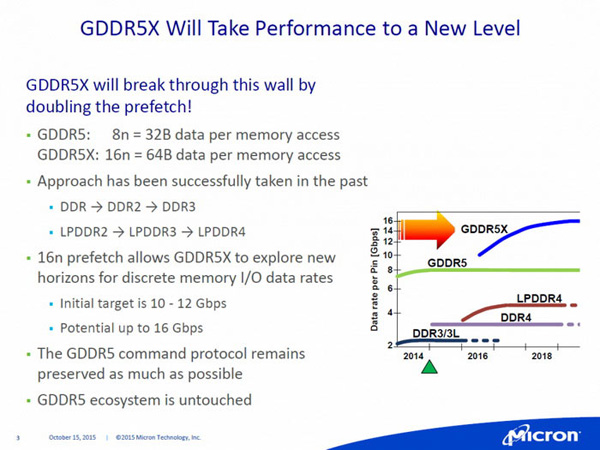 "GDDR5X represents a significant leap forward for high-end GPU design," said Mian Quddus, JEDEC Board of Directors Chairman. "Its performance improvements over the prior standard will help enable the next generation of graphics and other high-performance applications."
GDDR5X evolves from the current and most popular GDDR5 memory standard and promises to provide two times the bandwidth of the fastest GDDR5 memory chips as of now. At the same time GDDR5X will keep some of the specs of GDDR5, which will allow manufacturers to transfer to the new memory with no major problems. Thus the POD structure of GDDR5X will remain the same as in GDDR5 but one of the major improvements is that GDDR5X can fetch 64 bytes per clock cycle, while GDDR5 can get only 32. In addition it is very likely that GDDR5X can work in GDDR5 mode, which will bring even more flexibility to video card manufacturers.
Chances are we will see the first GDDR5X-based video cards by the end of the year.
Source: JEDEC