Kingmax Semiconductor has announced a new DDR3 overclocking memory series that targets quad-channeled systems.
Speaking of quad-channeled memory there's only one platform that comes with it and this is Intel's X79 chipset platform. And this is exactly where Kingmax steps in with its new memory. Designed to work at 2200 MHz, the new series of DDR3 quad channel overclocking memory is designed to optimize the maximum performance of an X79 related motherboard.
Kingmax also claims that the new memory offers even better performance and system stability. In addition this type of DDR3 memory is specifically optimized for the power of Intel's i7-3930K processor and takes gamers, overclocking enthusiasts and digital content producers to a never before seen level of experience.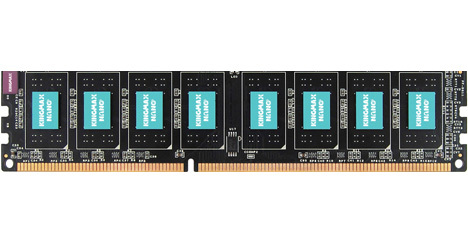 The memory is also available at speeds of 1333 MHz, 1600 MHz and 2000 MHz and is manufactured using a lead-free production process and conforms to all ecological standards including RoHS. Also certified by CE and Intel XMP the new Kingmax memory uses TinyBGA Technology that yields various advantages such as smaller and cooler chips, lowered power consumption, large capacity and less electrical interference.
The new product is available with lifetime warranty and is available for purchase now.
Source: Hardwarecanucks