The HyperX division of Kingston Technology, which deals with computer memory, has announced the release of new high-capacity memory kits to the HyperX Savage and HyperX Predator DDR4 memory lines. Both new additions, as expected, target hardware enthusiasts and hardcore gamers.
The HyperX Predator DDR4 memory line now reaches 64 GB of capacity (four 16 GB DIMMs at 3000 MHz) but it is also available in 32 GB kits (two 16 GB DIMMs at 3000 MHz). The new HyperX Predator DDR4 memory is designed for use in Intel X99 and Intel 100 Series motherboards and combines high clock speeds and aggressive timings for unprecedented performance levels. In addition to the new kits, HyperX Predator DDR4 ships in 16 GB (2133 MHz to 3000 MHz) and 32 GB (2133 MHz to 3000 MHz) kits of four, as well as a 64 GB (2800 MHz) kit of 8.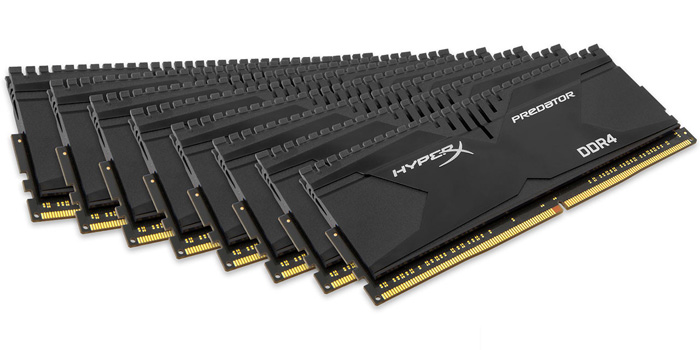 Thanks to the new high-capacity kits the HyperX Savage DDR4 memory line now offers 128 GB of DDR4 memory, spread across eight 16 GB DIMMs, and running at 2667 MHz. The memory joins other DDR4 Savage memory modules that run at speeds that range from 2133 MHz to 3000 MHz in various single modes and kits from 4 GB to 64 GB. The memory is optimized for Intel X99-based and Intel 100 Series motherboards and can be easily overclocked in case of need by using built-in XMP-ready memory profiles.
No word on pricing as of now but the money spent also gets you a lifetime warranty.
Source: Kingston