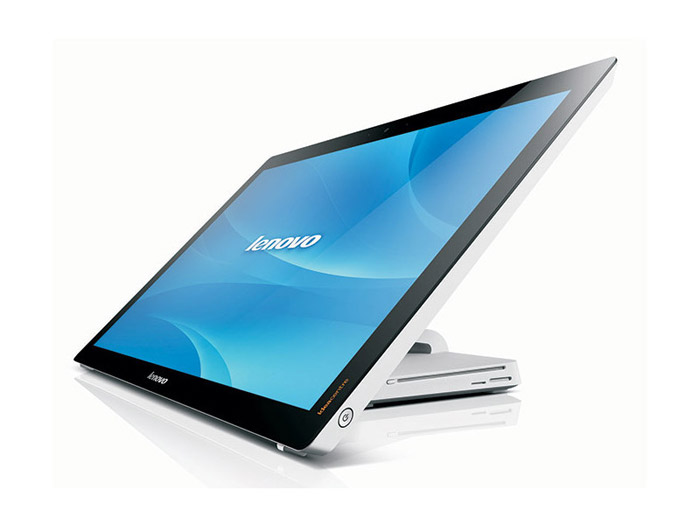 Chinese tech giant Lenovo has announced two new Windows 8-based all-in-one computers – the IdeaCentre A730 and IdeaCentre C540. Built around the new functionality that Windows 8 offers the IdeaCentre A730 offers a touch screen, while the C540 can be ordered with a touch display or a regular screen.
The IdeaCentre A730 is the more powerful model between the two and comes with a 27-inch sensor display that runs at either 1920 x 1080 pixels or 2560 x 1440 pixels. The display can be tilted between –5 degrees and +90 degrees, which means that users can easily turn it into a touch table.
Inside the IdeaCentre A730 offers an Intel Core i7 processor, 1 TB of hard drive storage, 8 GB of DDR3 SDRAM, a separate GeForce GT 745M graphics card with 2 GB of memory, an optional optical drive, 720p HD web camera and support for USB 3.0 and HDMI.
The IdeaCentre C540 is a more budget-oriented product – it comes with a 23-inch display, which works at 1920 x 1080 pixels. The C540 will offer an Intel Core i3 processor, GeForce GT 615 GPU with 2 GB VRAM and 2 TB of hard drive storage but there's no USB 3.0 and HDMI.
The IdeaCentre A730 and C540 with sensor displays will be available for purchase in June 2013 while the C540 version with a regular display will be on the market next month. As to pricing the IdeaCentre A730 will sell for USD 1500 and up, while the C540 will start at just USD 550.
Source: Chipchick