The Chinese computer giant Lenovo has announced three new workstations aimed at professionals who demand the best for their work needs.
The workstations arrive under the ThinkStation brand and are named S30, C30 and D30 and come with the latest Intel Xeon E5 processors being designed to meet the heavy computing demands of specialized professionals in CAD and engineering, film and animation, financial services and healthcare. In addition to power, the new workstations provide energy efficiency and are friendly to the environment with all three of them providing up to 90 percent power efficiency, Energy Star 5.2 certification and an 80 Plus Gold power supply. The three new models are based on Intel Xeon E5 1600/2600 processors, NVIDIA Quadro graphics cards and support up to 256 GB 1600 MHz DDR3 memory and USB 3.0.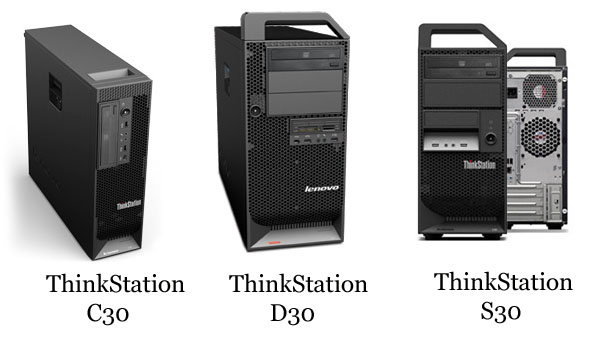 Let's take a look at the specs. Lenovo ThinkStation C30 comes with two of the latest Intel Xeon E5 2600 processors, 128 GB of DDR3-1600 memory, PCI-E 3.0, USB 3.0, NVIDIA Quadro 6000 or dual NVIDIA Quadro 5000 graphics and the ability to fit up to 14 workstations in a 42U rack or four C30s under a standard trading floor desk.
The powerful Lenovo ThinkStation D30 offers up to eight-core Intel Xeon E5 2600 processors, up to two NVIDIA Quadro 6000 cards, and up to 16 DIMMs  and 1600 MHz memory.
The budget oriented Lenovo ThinkStation S30 arrives with a single Intel Xeon E5 1600/2600 processor, NVIDIA discrete graphics, 128GB DDR3 memory and USB 3.0.
The new workstations will be officially launched on April 9. In the USA the ThinkStation S30 will cost 1029 USD and up, the C30 will retail for 1399 USD and up and the ThinkStation D30 will sell for 1549 USD and up.
Source: PC Launches