The Chinese company Lian Li, known for making various PC accessories and PC cases, has prepared a new giant PC case, known as PC-D8000. The new case is expected to debut in the next few weeks.
The PC-D8000 is one massive piece of PC equipment. It measures 405 x 628 x 572 mm, weighs 13 kilograms and is capable of housing HPTX form factor motherboards. The chassis can also take up to six 5.25-inch devices (although one 5.25 bay is taken by a USB 3.0 reader) and twenty 3.5-inch devices including hard drives and SSD devices.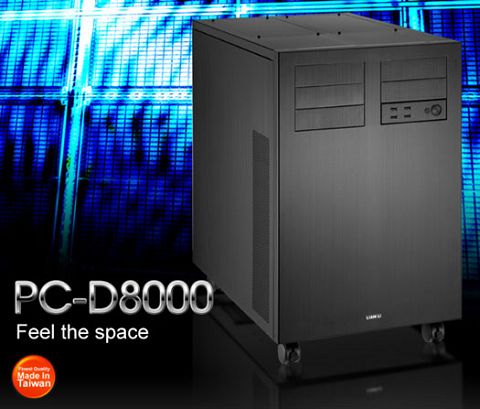 If you think this is all you are wrong – the PC-D8000 can also take two powerful PSUs at the same time, graphics cards as long as 410 mm and CPU coolers as high as 160 mm. The case can also hold up to eighteen 140 mm cooling fans.
Now that's what we call a PC case! The Lian Li PC-D8000 will allow you to build the most powerful PC ever and there'll be room left for other devices too!
The Lian Li PC-D8000 is already available in Europe where it costs 329 EUR.

Source: HWP.ru