The Taiwanese company Max Xtreme Technology has unveiled a new product – the MX-KATANA SATA 3.0 SSD modules.
The novelty comes in low profile and features an alternative design where the SATA modules resemble gum sticks in size. Max Xtreme Technology says the new product delivers an enhanced mobile computing experience with much faster application loading, ultra-fast data access, shorter boot-ups, and longer battery life of today's and future ultrabooks and netbooks with new type low-profile SATA 3.0 interface.
Indeed the MX-KATANA drive comes with best-in-class read and write speeds that reach 510 MB/sec read and 450 MB/sec write. But this is not everything – the drive features 60 000 IOPS, lowered power consumption and stunning 2 million hours of MTBF.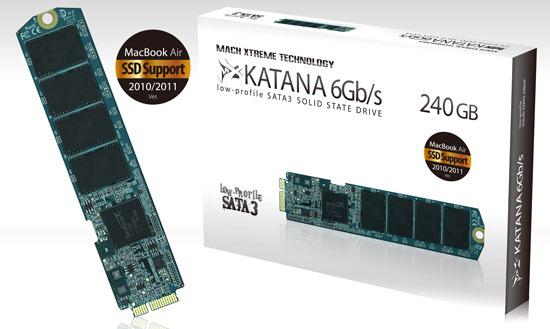 The MX-KATANA also supports the so-called DuraClass and DuraWrite technologies. The DuraClass technology provides best-in-class endurance, performance and low power consumption while the DuraWrite technology optimizes writes to the flash memory over conventional controllers increasing the overall endurance and reliability of the complete SSD module.
The MX-KATANA comes with a 2-year warranty and is available in capacities that range from 240 GB to 480 GB but unfortunately pricing is unknown.

Source: Techpowerup