Micro-Star International has prepared two new enhanced GeForce GTX 680 graphics cards for all gamers and enthusiasts looking for better cooling and more on-board memory.
This is the reason why the two new MSI market entries feature Twin Frozr III coolers and 4 GB of on-board VRAM memory, up from 2 GB on reference GTX 680 cards. In addition one of the new offerings is factory overclocked for even better performance.
Compared to the stock cooler, the Twin Frozr III cooler is claimed to allow 20% more airflow with its propeller blade technology than traditional fan designs. The two fans have dual 8 PWM fans with SuperPipe technology to provide better heat dissipation and deliver 22 degrees centigrade cooler temperatures along with a 10.2 dB reduction in noise. The cards also come with all solid capacitors, rated for a 10-year lifetime at full load. Connectivity consists of a Dual-link DVI-I port, Dual-link DVI-D port, DisplayPort connector and a HDMI port.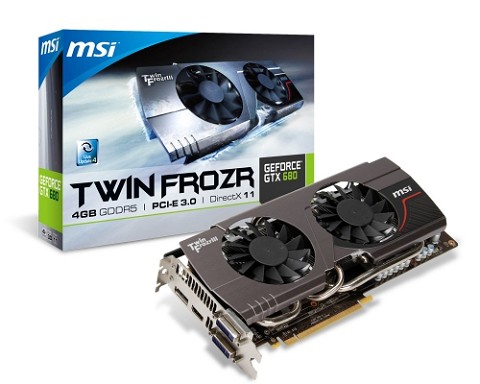 Looking at the specs we'll see that the MSI N680GTX Twin Frozr 4GD5 runs at 1006 MHz for the core (1058 MHz with boost clock on) and 6008 MHz for the memory (effective). The other model – the MSI N680GTX Twin Frozr 4GD5/OC – is the factory overclocked model as the name suggests and this is the reason why the graphics core runs at 1058 MHz default speed and at 1124 MHz with boost clock. The memory operates at the same 6008 MHz effective clock speed.
Pricing unfortunately is unknown but analysts expect the cards to cost about 15-25% more than reference GTX 680 cards with 2 GB of VRAM.
Source: Legitreviews.com