MSI extends its line All-in-one PCs with a new member, the Wind Top AE1920, enclosed in white body with a sparkling, transparent border design. Powered by Intel  Atom  D525 at 1.8GHz processor, it has a 18.5-inch (1366×768) Single Touch -touch screen display and comes with friendly Wind Touch 3D interface.
The space saving machine is also equipped with 2GB RAM, Intel Integrated GMA3150 graphics, 2.5″ SATA II 250GB/320GB drives, Ethernet and 802.11 b/g/n Wireless, 1.3M Webcam with Microphone, DVD burner and have a built-in 6-in-1 card reader. Thanks to integrated graphics, memory controller and Northbridge functionality on a single chip, It has only 35W of power consumption at peak operating speed, which is nearly 80% lower, compared to traditional PCs. MSI also claims that the noise of  the new AIO PC will not exceed 26 decibels, whether you're on standby or at full power.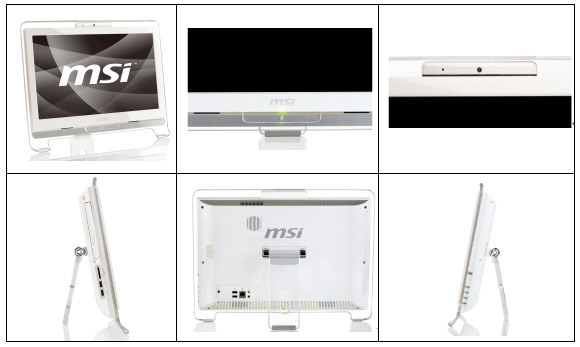 The Wind Top AE1920 comes pre-loaded Windows 7 Home Premium 64 bit, as well as built-in multi-touch software and games, including: MSI YouCam, MSI YouPaint, MSI YouMemo, Kidoz, and MSI Game Corner. Date of appearance an price still unknown. Stay tuned.