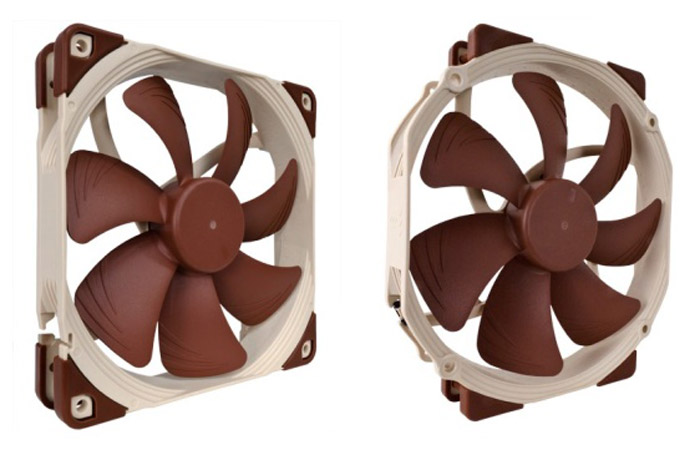 Noctua, a well-known Austrian maker of cooling solutions, has launched a new line of 140 mm fans that complement the recently announced A-series of premium quality quiet fans.
The newly announced NF-A14 FLX, NF-A14 ULN and NF-A15 PWM 140mm fans feature Noctua's novel AAO frames as well as the series' signature Flow Acceleration Channels for reduced boundary layer separation and improved aerodynamic efficiency. Reference class SSO2 bearing and 6 years manufacturer's warranty make the NF-A15 and NF-A14 a stand-out choice for all noise-sensitive 140mm applications.
"Introduced in 2009, our NF-P14 has become a default-choice among PC enthusiasts looking for a premium quality, quiet 140mm fan, so we're excited to further improve its much acclaimed airflow to noise ratio with the new NF-A14 and NF-A15", says Roland Mossig, Noctua's CEO. "The A14 and A15 models all sport the key features of our new A-series fans and now come in both round and square frame design."
Whereas the NF-A15's round frame features 120mm mounting holes (105mm spacing) and has been enlarged to a width of 150mm in order to provide superior performance on today's high-end CPU coolers, the NF-A14 models' square shape and 140mm mounting holes (124.5mm spacing) make them ideal for use on watercooling radiators or as an upgrade for 140mm case fans.
Tailor-made for use on CPU coolers, the NF-A15 PWM comes with Noctua's custom designed NE-FD1 PWM IC for fully automatic speed control. The NF-A14 comes in FLX and ULN versions with 1200/1050/900 and 800/650 speed settings for full flexibility in quiet to ultra-quiet case and radiator cooling.
Like all new A-series fans, the NF-A15 and NF-A14 use a novel aerodynamic design measure called Flow Acceleration Channels that allows them to significantly improve the airflow to noise performance of conventional, uniform blade shapes. By speeding up the airflow at the crucial outer blade regions, Flow Acceleration Channels reduce suction side flow separation and thus lead to better efficiency and lower vortex noise.
All three fans employ the further optimised second generation of Noctua's renowned, time-tested SSO bearing as well as Noctua's AAO (Advanced Acoustic Optimisation) frames that feature integrated anti-vibration pads as well as Noctua's proprietary Stepped Inlet Design and Inner Surface Microstructures, both of which further refine the fans' performance/noise efficiency. Like all Noctua fans, the NF-A15 and NF-A14 have an MTBF rating of more than 150 000 hours and come with a full 6 years manufacturer's warranty.
The new Noctua fans are available now for a price of EUR 21.90/USD 24.90.
Source: Noctua