You might have thought that this week's release of the latest AMD FirePro generation had secured AMD's top position in the professional graphics field. Well, this is no longer the case – NVIDIA has been quick to respond and the company has announced the first Kepler-based professional graphics card – the Quadro K5000.
The Quadro K5000 is here to replace the current Fermi-based generation, namely the Quadro 6000 and Quadro 5000 professional graphics cards and the new tech creation does deliver. The K5000 is based on the same GK104 graphics core found in the desktop GeForce GTX 690, GTX 680 and GTX 670 video cards. Moreover the graphics core is fully enabled, which means the K5000 comes with 1536 shader units, 32 ROPs, 128 texture units and a 256-bit memory interface. There's a difference in clock speed though – the graphics core of the K5000 runs at 700 MHz, while the on-board 4 GB GDDR5 memory works at 6400 MHz. The lower core speed of the K5000 also makes the card very power efficient – besides a smaller PCB when compared to the desktop Kepler parts, the K5000 features a TDP of just 122 watts.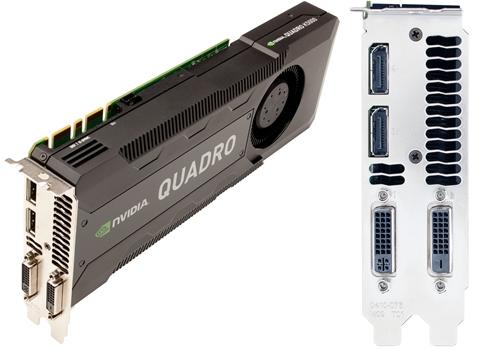 Additionally the Quadro K5000 brings PCI-Express 3.0 support to the table as well as DisplayPort 1.2 support and has the capability to drive up to four monitors at the same time. The K5000 is also the first Quadro card that offers PCI-E 3.0 support on the Intel Sandy Bridge-E platform.
So far so good except for two things – price and software support. The new K5000 professional graphics card requires specific drivers that can be found on NVIDIA's web site but they also drive the final cost up. And the Quadro K5000 won't be cheap at all – expected to come in October 2012 the new professional video card will cost at least 2249 USD.
Source: UK.Hardware.info