There's some good news for gamers on a budget – the graphics chip giant NVIDIA is working on a budget GeForce GT 640 video card that will come with faster GDDR5 memory instead of the standard GDDR3 memory fitted in that card.
To be perfectly precise though NVIDIA has had a GDDR5 version of the GT 640 for quite some time – but it was only available in the OEM channels. Starting very soon GT 640 cards with GDDR5 will hit the regular market as well.
The novelty should provide more performance as the GK107 core featured inside will run at 950 MHz while the main trump – the GDDR5 memory – will run at full 5000 MHz. Until now the GDDR3 version of the same card offered a graphics chip clocked at 797 MHz and memory working at the miserable 1782 MHz.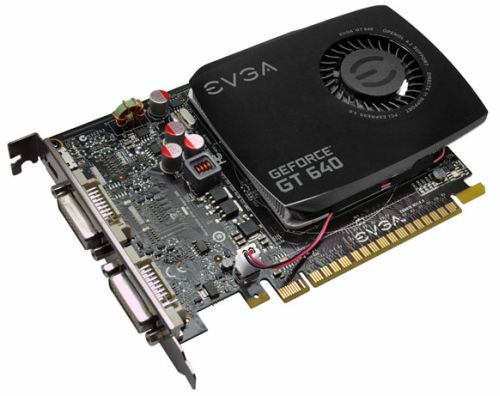 The GT 640 GDDR5 will offer 384 CUDA cores, a 128-bit memory bus and memory that ranges from 1 GB to 2 GB depending on the model. The expected price will be around 120 USD.
As a side note in August 2012 NVIDIA is expected to debut GeForce GTX 660 Ti (1344 stream processors, 192-bit memory bus), GeForce GTX 660 (1152 stream processors) and GeForce GT 650 Ti with 960 stream processors.
Pricing is unknown.

Source: Overclockers.ru