Most modern CPU coolers rely on large heat sinks and cooling fans to reduce chip temperatures. They have offered this design for years but things have started changing for good – the CPU cooler maker Phononic has offered the new HEX 1.0 CPU cooler that features solid-state technology. The new cooler is the first in a line based on this tech so expect more models in the future.
One of the main new features of HEX 1.0 is its size – thanks to the innovations inside the CPU cooler, the HEX 1.0 is much smaller than the competition, which allows the installation of the cooler in all kinds of PC cases. The cooler comes equipped with a dedicated control board that brings Variable Assist Cooling (VAC) to the table. This technology allows users to increase the CPU cooler performance while reducing the power used and the fan noise. Furthermore thanks to VAC the HEX 1.0 includes a state-of-the-art Phononic heat pump with electronic control that allows the cooler to respond to changing load and ambient conditions.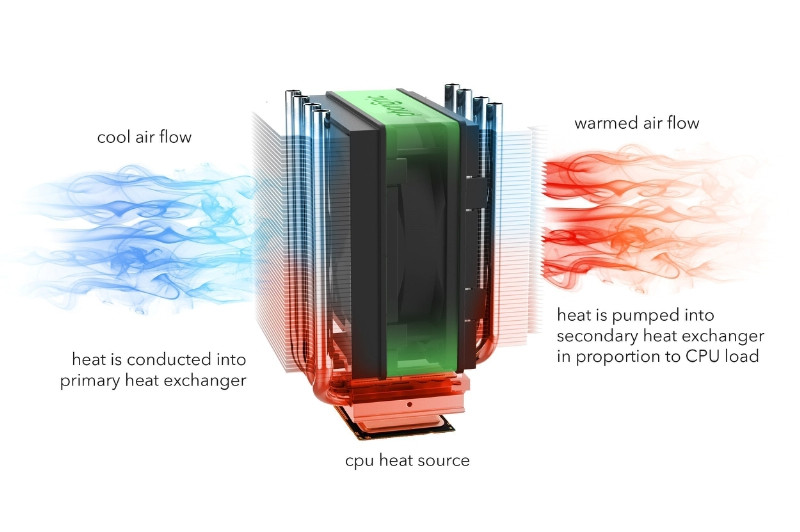 "Our HEX 1.0 CPU Cooler packs more cooling performance for a given size than any other CPU cooler on the market," explained Ted Donnelly, director of Phononic's IT Cooling business. "With the addition of our Variable Assist Cooling (VAC), users can maximize the performance of their system, while at the same time managing the fan noise associated with higher load conditions."
The entire HEX 1.0 CPU cooler measures 4.3 x 3.5 x 3.5 inches (H x W x D) and gets cooled by a single 80 mm cooling fan. The new Phononic product is compatible with the latest high-performance Intel processors and can cool chips with TDP greater than 175 watts.
The HEX 1.0 CPU cooler will be available in November 2015 but you can pre-order yours now. No word on pricing.
Source: Phononic