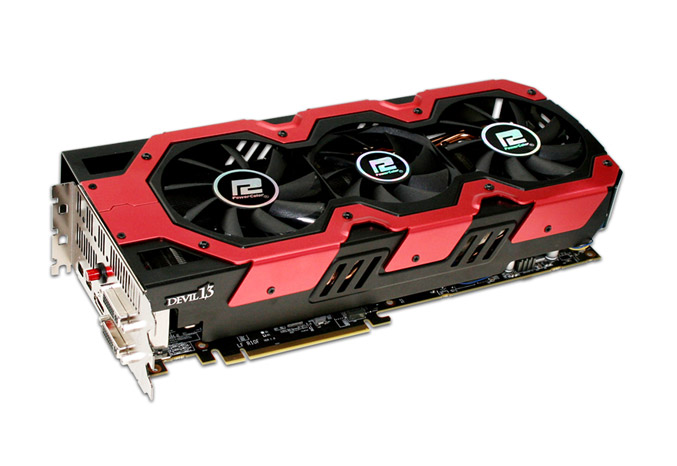 The dual-GPU Radeon HD 7000 rumors have been finally solved for good with the launch of the first ever dual-GPU Radeon HD 7990 graphics card made by PowerColor.
As expected the dual-GPU Radeon card targets hardcore gamers and comes with two AMD Radeon HD 7970 GPUs running together at 900 MHz with GPU Boost taking them to 925 MHz. Additionally the graphics card packs 6 GB of GDDR5 memory (3 GB VRAM accessed over a 384-bit bus per chip) at 5500 MHz effective clock speed. A three-fan ten-heatpipe cooling system fights the excessive heat coming out of the two GPUs and the video memory. The card also offers DL DVI-I, SL DVI-D, HDMI and two mini DisplayPort connectors.
The Radeon HD 7990 will offer you unmatched performance in the AMD world for sure but what's the downside? First, the card is expected to cost nearly 1000 USD. Second, you need an 850-watt PSU with three 8-pin power connectors, at least, to be able to run the dual-GPU monster. And finally, due to its size and weight the card comes with a special stand that provides support.
If these three do not deter you from getting a Radeon HD 7990 card then go for it – you won't regret the performance!

Source: PowerColor